Almost every one holds an android device these days because android OS is one of the most amazing OS over all mobile OS. By default android provides a lot of customization but that's not enough for Geeks or Tech savvy and this is why you need to Root your android device.
Rooting is the process by which you regain administrative or root access to your android device and gaining root access of your android device opens the word of new features, settings and also you'll able to run some awesome &  powerful apps on your android Smartphone.
Once you have rooted your android device not only be able to use certain apps also you will have more control over Boot Setting, Permission, System Files and many more.  Advantages and Disadvantages of Android Rooting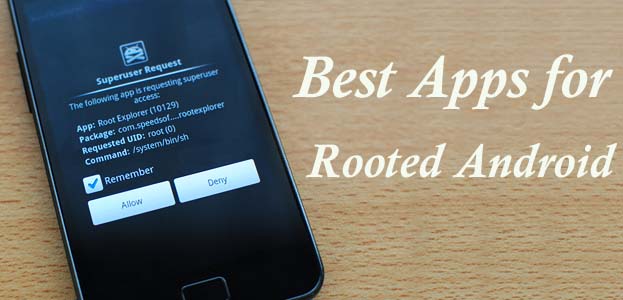 There are a lot of peoples who rooted their device but only experienced user knows how to use a rooted android device because most of the peoples are not familiar with some amazing apps which is build for rooted android device. So we've collected some top best root apps for android device, take a look on those apps.
Top and Best Apps for Rooted Android Phones and Tablets
Root Explorer is one of the best file manager or file explorer for rooted android device. With this app you can access the whole system file of your android phone including the elusive data folder. You can uninstall outdated or useless apps and large temporary files that take up your phone's internal memory. So if you've rooted android device then install this app to manage everything on your device.
When it comes to saving battery then you must go with this application. Greenify is a smart application that identify which application consume a lot of battery life or worse makes your device slow down and then it hibernate those battery hogging apps when you are not using then and save the energy.
SuperSU a kind of app watchdog. It's one of the essential and best apps for rooted android phones or tablets. Once you root your android you've the great power and but you need to taking care for the apps you install and making sure that malicious apps or programs don't have the administrative level access to your device and this is why you need SuperSU.
Once you install this app then every time one of your apps will makes a request to root level access and then you will be able to allow or denied that app's root access.
Titanium Backup used for backup purpose and it is the voted #1 Top app for Rooted android. With the help of this application you can backup your all application along with application's settings and data manually or you scheduled the backup. Once you backup, you can restore your data at anytime. Not only backup also its offers dozens of  features like Freeze apps, Syncing backup to cloud storage, un-installing system apps etc
There are several apps on your android device which are not necessary to keep them or you never use them then there is no reason to keep those apps on your android device which take internal memory space and wasting your device's internal memory space, better to remove those system apps and with the help of this app you can remove any application from your android device.  This app not only works as system app remover, also its works as APK manager and Android manager like Move apps to sd card, scan APK in SD card, move apps to phone's internal storage and more.
Flashify is another amazing app for rooted android phones. This app allows you to do a bunch of otherwise tedious tasks. If you are looking for best root apps, then Flashify is all you need. You can flash a variety of recoveries, download ROMs, flash ZIP files, create full Nandroid backups (depending on your recovery), and more with it. There is an automatic syncing option available in it, which helps you in backing up all of your android mobile phone data either to local storage of device or to cloud storage.
Rom Toolbox is the must have apps for rooted android device users. This app combines with all the great root apps into a monster app with beautiful and user-friendly interface. Rom Toolbox has every tool you need to customize your android device, it's basically a ROM Manager, App Manager, Root explorer, Scripter & Terminal emulator all built in one with lots of features to change Boot Screen, Logos, animation, status bar, fonts and more. So if you rooted your android device then try this app may be this app will be one of the best apps for your rooted android.
AFWall+ is a front-end application for powerful iptables Linux firewall. With the help of WFWall+ you can restrict which applications are permited to access your data connection (2G/3G) or Wi-Fi even in roaming. Also you can control traffic while connected through VPN or LAN.
Drive Droid is a different kind of app, it allows you to boot your PC from ISO or IMG file stored on your android phone. It's ideal for trying Linux distribution or having a rescue system without need to burn DVDs or Pen drives.  Also it includes a convenient download menu from where you can download number of operating system's USB-images from your phone like Linux mint, Ubuntu, Fedora etc.
Tasker is a must have application for rooted android users. Taskes is an app for android which performs task based on contexts in user defined profiles or in clickable or timer home screen widgets. This is a kind of app which definitely give power to the user.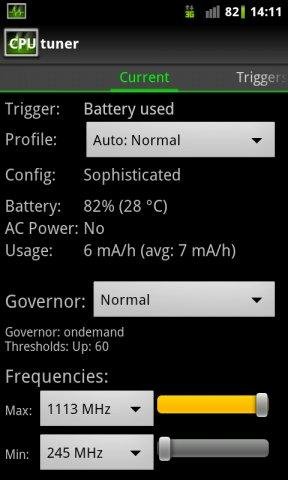 CPU Tuner gives you control over the power consumption of your android device. This app helps you to do tweaks to extend battery and brings out the ultimate performance in your Android. CPU Tuner lets you to set your device's CPU to handle requirement as needed.
\
This rooted android app is next big thing in this list. Unfortunately, this app is more beneficial only for android tablets. Though you can install it on your mobile phones too. When you will install this app, it will appear at the notification bar. When you activate it, everything disappears and you get a back button on the bottom left and a home button on the bottom right. This is perfect for competition for best root apps for android. As the name suggest, FullScreen will help you in hiding system bar. You can surf the web, play games, watch videos, and read your mails in full screen mode.
In our best root apps list, GooManager is another great app for rooted android devices. There is a site named goo.im, which made this app. Using GooManager, you can download and install anything on your device from goo.im website. You can also use this app to search a lot of files. GooManager have a beautiful and easy to use user interface. You can also use it to install TWRP Recovery if you need a custom recovery, and use the interface to reboot to recovery or flash ROMs without using the recovery.
As the name suggests, this app will help you by providing options to power off your device, reboot it, or with this rooted android app you can boot your device into recovery or boot loader mode with just one single click. Quick Boot can create widgets or shortcuts on your home screen for easier access. Not only this, but it can also display information about hardware, software or network of the device. You need to root your android mobile or tablet before using this app because you will need super user permissions to perform tasks it offers. This app was awarded as best apps for rooted android.
If you are an android KitKat or above user, then you should be aware that Android 4.4 KitKat removes your ability to write files to the MicroSD card. SDFix is a system modifier tool that helps you to regain access to modify a configuration file. If you own an android kitkat device, which is already rooted, then you should definitely use this app but before installing it on your device, make sure you have read the description of exactly what this app does. This app is useful only for those people who have added an extra micro SD card to their mobile. This app is easy to use, and doesn't work on all devices, so just give it a try. Open it, hit go, wait a few seconds, and then uninstall the app.
Device Control is another app on our list of best apps for rooted android devices. With Device Control app you can totally control your android device, like you can tweak and edit screen color temperature, LCD power reduce, vibration strength etc. You can also monitor your android device's cpu and battery temperature. With it you can also under clock your device by configuring its CPU and GPU frequencies. One amazing feature named Wireless File Manager of this app allows you to gain access to your android device's internal storage or memory card via any web browser.
DiskDigger is a helpful application that can help you in recovering lost photos, videos, documents, and more from a user's internal storage or SD Card. Currently there are more than 1 million users of this app and it have an overall rating of 3.5 in Google Play Store. This app is currently in development mode, so don't expect some advanced features from it. If you are looking for best root apps for android data recovery, then do try this out once.
Conclusion
These are the top 10 apps for rooted android phone or tablets, although there are many apps available for rooted android phone and these are only 10 out of them so don't hesitate to try outside of these 10 apps. We know we missed a lot of top & best apps for rooted android device so if you know any best app for rooted android then mentioned in your comment.