Android phones has some benefits over ISO or Windows phone , because it allows user to access their device as a mass storage device, but it won't be much benefits if you don't have right app to take advantage of this features.
Every Android mobile and tablets has comes with a built-in file manager which is not very powerful and flexible, it allows user to do some basic task like Copy, Paste, Move, Rename, Delete etc. But the built-in android file manager does not allows user to do advance task that offered by third-party android file manager or file explorer for android. Best Email app for Android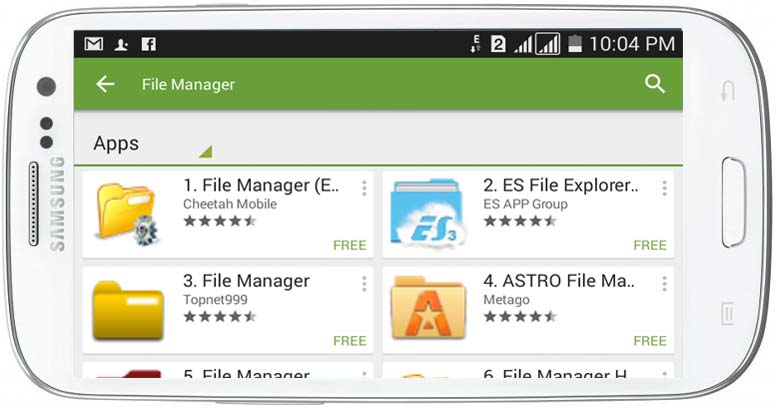 There are a lot of situations where you need to have a good file manager in your android device, for example if you want to change file extension on your android device or want to access your device's system file even if you want to access whatsapp video and image folder on bluestacks then need the help of a good third-party android file manager app.
So if you are searching for Best Android File Manager Apps, then you are at right place, here we will provide a list of Best File Manager for Android Phones and Tablets some of them are paid and some are Free.
Best File Manager Apps or File Explorer for Android Phones and Tablets
Root Explorer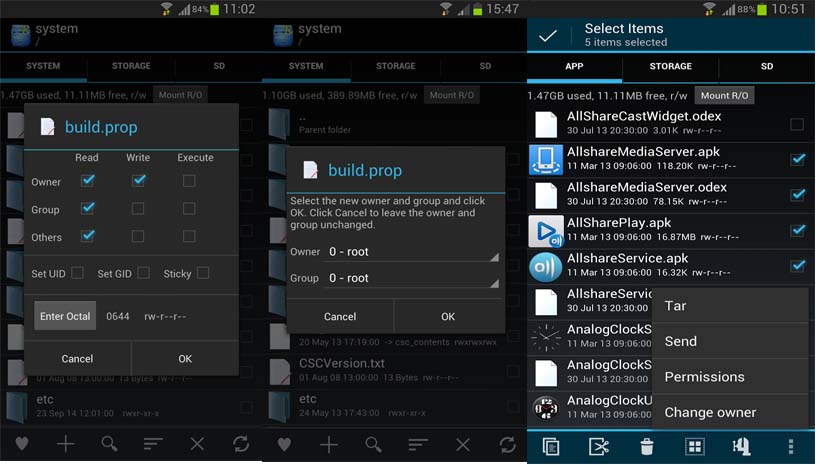 Root Explorer is the best file manager for Rooted Android device. It allows user to access the whole android system file including exclusive data folder. It has lots of features including Multi tabs, SQLite data base viewer, Text editor, create and extract ZIP or tar/gzip files, extract RAR files, multi-select, execute script, send files (via email, bluetooth etc), image thumbnails and more. There are main two options you'll find "Mount as R/O" and "Mount as R/W", if you want to modify the android system file then you've to switch to "Mount as R/W".
Although it's a paid android file manager but it's worthy to invest money on it. Also they have 24 hour refund policy, so if you're not happy with the app just email to them within 24 hours and you can have a refund.
ES File Explorer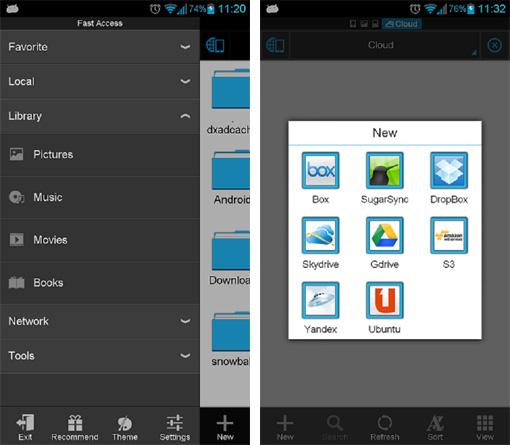 ES File Explorer is one of the most popular and free file managers available for android device with over 300 million global downloads. This file manager provides lots of features including Multiple Select, Cut/Copy/Paste, Move, Create, Delete, Rename, Search, Share, Send, Hide etc.
It's not just a file manager also it works as An App Manager so that you can categories, uninstall, backup and create shortcuts to your apps. You can manage your phone from your computer remotely. Their built-in ZIP and RAR support allows you to compress and decompress RAR and ZIP files.
Solid Explorer File Manager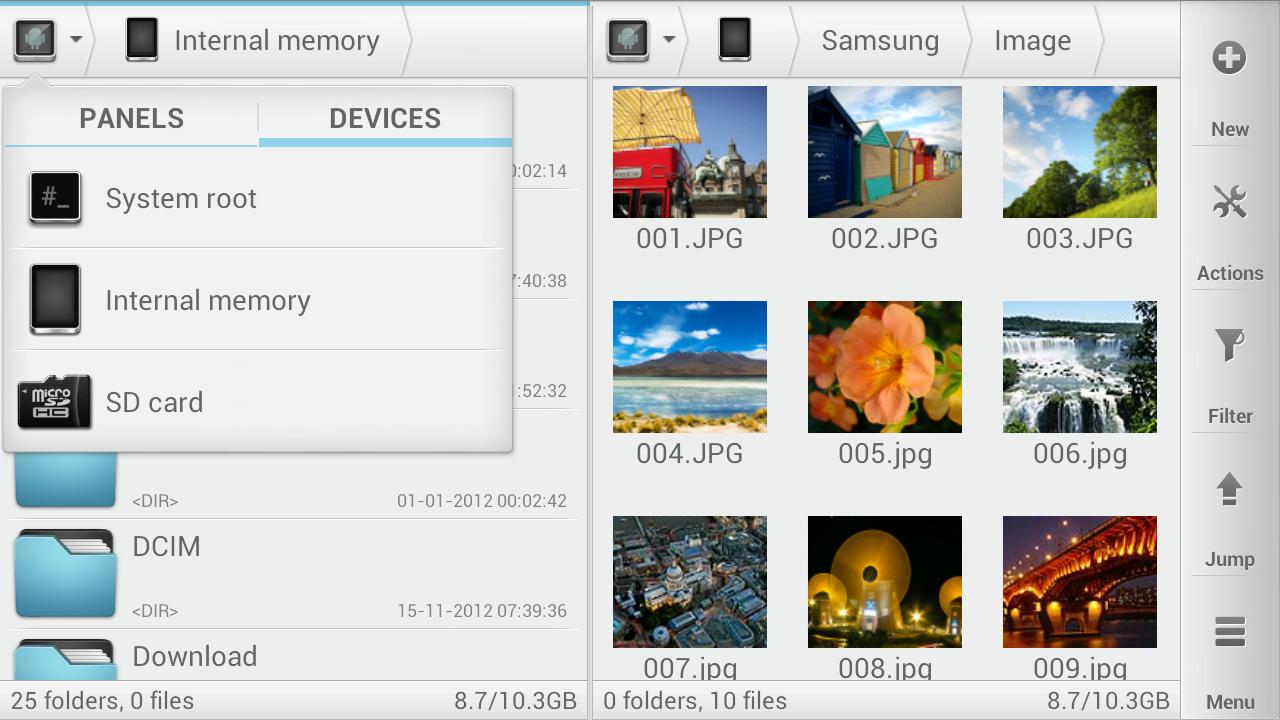 Solid Explorer is a good file manager for android. It has attractive UI and lots of features. It has two independent panels which make file transfer easily between various locations. It support many cloud storage clients. It also support ZIP, TAR, and RAR file and has ability to create TAR archive and password protected ZIP archives.
Also it's a paid android file manager but before purchasing you can use it for free because it's available for 14 days free trial. So after 14 days free trial you've to buy this app but first make sure you are fully satisfied with it.
X-Plore File Manager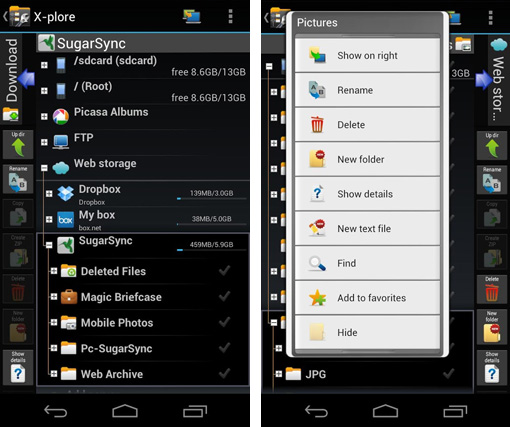 X-Plore is yet another best free android file manager app. It's very easy to use file manager app available for android. This app allows user to access cloud storage, SQlite data base, Picasa etc. It also supports ZIP, 7ZIP and RAR archives.
X-plore file manager has dual-panel tree view which allows user to view two folders at once and with help you dual panel you can move or transfer file from one location to another very easily. Also you can share files over Wi-Fi with others android device, also it has Disk map features which helps to know which files consume most space on your disk.
ASTRO File Manager with Cloud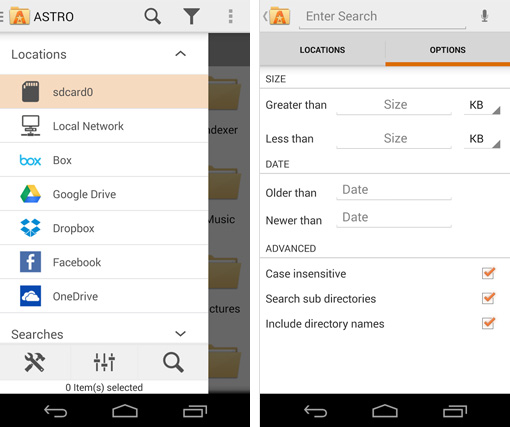 ASTRO File Manager is another best file manager app for android which lets user to manage and organize files regardless of where are stored.  ASTRO has most robust technology which giving you the ability to find any file that you want from any location in your android phone.
With lots of features Astro has a unique feature called "CLOUD HOPPING (TM)" which helps user to move files from one cloud to another in a single copy paste. It supports all major cloud services. It's a free android file manager.
AntTek Explorer Ex and Pro (Free)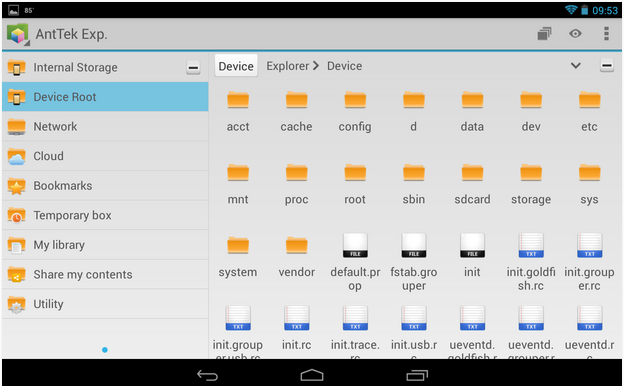 AntTek Explorer is just another great file manager app for android which have many advanced features in it. There are two versions of this app, AntTek Explorer Ex and AntTek Explorer Pro. Both can be downloaded for free from Google Play Store, and have some offers in-app purchases.
AntTek Explorer Pro is newer version with some bugs fixes and more device compatibility. It have a drag and drop facility, so you can use it without any difficulty. There is an option in file browser to stream from remote file server for audio and video. You can even manage system partitions with it. With a 4.3 overall rating in Google Play Store, this app makes it way to our list of best android file explorers.
Download AntTek Explorer Ex or Download AntTek Explorer Pro
Total Commander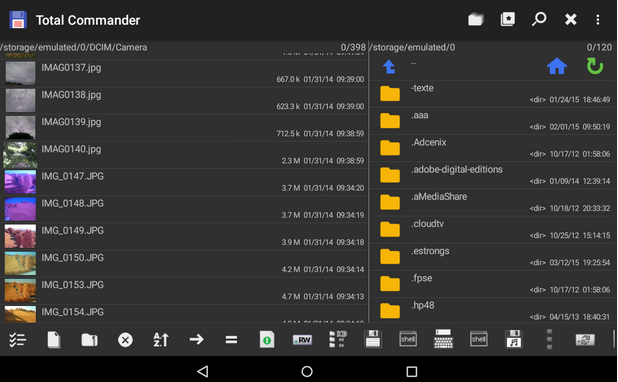 Total Commander is a very popular and most used file manager app for android devices. It doesn't matter if you are using an android mobile or tablet, it works smoothly on both devices. With more than 1 million downloads from Google Play Store, this app have overall rating of 4.5 out of 5.
You can copy or move whole directory to another place either manually or by using it's drag and drop feature. Total Commander can also help you in opening zip and rar files. There is an option to change permissions of file, so you can add an extra privacy to your device.
Ghost Commander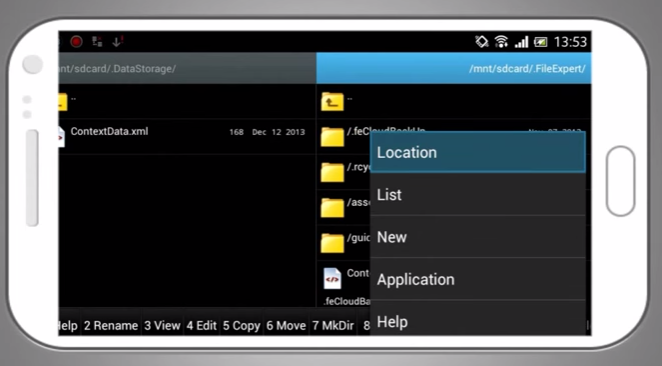 Don't mix up or think that Ghost Commander is similar to Total Commander. Overall features are same, but it have its own unique features which allows you to manage and explore your android device files. It is a FTP, SFTP, SMB, WebDAV, Drive, BOX, Dropbox client and a dual-panel file manager app.
Based on the android device you are using, this app allows you to take controls by using hotkeys. If you will use this app in root mode, then you can change file owner and permissions too. There is file search, text editor, text viewer, picture viewer, audio/video streaming option in it. What's needed more?
File Manager By Gira.me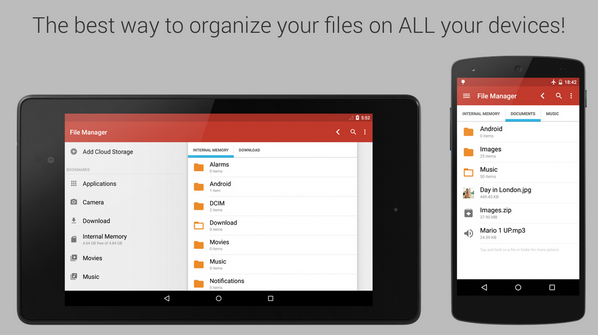 File Manager by Gira.me is a Material/Holo-themed file manager and file explorer app for android mobile and tablet devices. This app can be used on mobile and tablets but it is optimized specifically for Android tablets. There are theme options in it which you can change according to your need and taste.
There are some basic as well as advanced features in it. There is a built in image gallery in this app, so you can take down that old creepy default image gallery look of your android device. It has Google Drive and Dropbox cloud storage integration too.
Power Grasp File Manager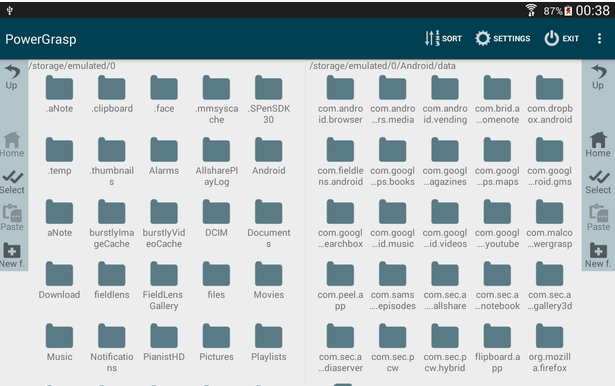 This is best application if you are looking for a simple, yet advanced file manager. You can unpack ZIP, RAR, 7z, tar and tar.gz files using this app. It is built with material design, so it looks good on eyes too. It have all usual functions like copy, paste, delete, and share and so on.
This app is currently in developing mode, so don't expect much from it. You can try it out, maybe this is what you need. More than 2000 people have rated it 5 star in Google Play Store, making it another popular file manager app for android.
Download Power Grasp File Manager
Conclusion
These are only 10 of the hundreds of file managers of android. These are the best file manager available for android to perform special task. We think these five are best android file manager but everyone has different needs and views.
So it's up to you that which file manager you'll choose for your device and also don't hesitate to try any other file manager. If you got any other best file manager for your android phone or tablets then let us know we'll update it in our list.