WhatsApp is one of the most used messaging platform available right now out there. According to the reports of January 2015, there are more than 700 million active users around the world. Each image or video we get on WhatsApp is saved in the gallery of the phone and can be visible to each person who can have access to your phone gallery.
The first and foremost thing you can do is to lock your WhatsApp account with some lockers like AppLock, moreover you can lock your gallery with app like Gallery Lock. Some people may even ask you for password. So what you will do in that situation. Don't worry, I am here to help you out. How to send more than 16 MB Files on Whatsapp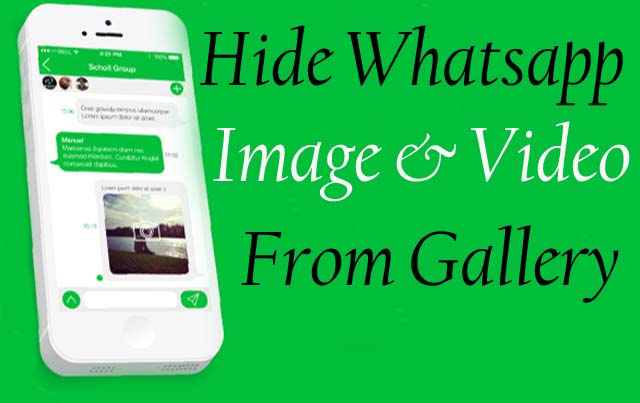 Well Instead of locking your gallery by using third party apps, it's better to hide WhatsApp images and videos folders right from the gallery and good news is, this trick works without installing any third-party app or rooting your device. So let check it out:
Hide WhatsApp Images and Videos from Gallery in iPhone
So first of all let me tell you how to hide WhatsApp images and videos from gallery in iPhone. It is a simple trick, which can be done easily without jail breaking or installing third-party apps in your iPhone.
Go to Settings of you WhatsApp in iPhone.
Click on Privacy button.
When you will click on Privacy, a new screen will appear, in which you have to tap on Photos. Now there will be many options, you have to find WhatsApp in it, and once you have found WhatsApp, toggle it OFF.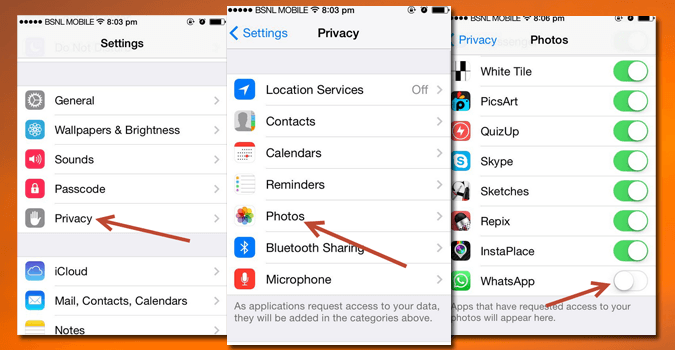 That's it, now your photos will not appear in the gallery.
Hide WhatsApp Images and Videos from Gallery in Android
To hide WhatsApp images and videos in android, you can use some third party file manager apps like ES File Explorer File Manager, Total Commander – file manager, ASTRO File Manager with Cloud etc. In this tutorial I am going to use ES File Explorer.
So first of all download any of the file manager app mentioned above. I will recommend you to choose ES File Manager app as it is very easy to use and ES File Explorer is one of the best file manager app for android. So download ES File Explorer 
Once you have downloaded and installed file manager app in your mobile, open it and navigate to 'WhatsApp's media' folder. Usually it's found under Home >sdcard>WhatsApp > Media.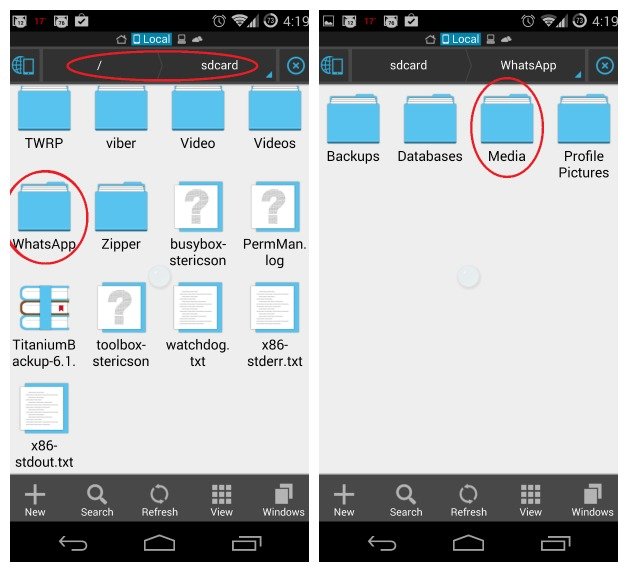 So next thing you have to get into WhatsApp images folder and click the + icon in the bottom left (as shown in the picture below). This will bring up the "Add" box where you want to click "File".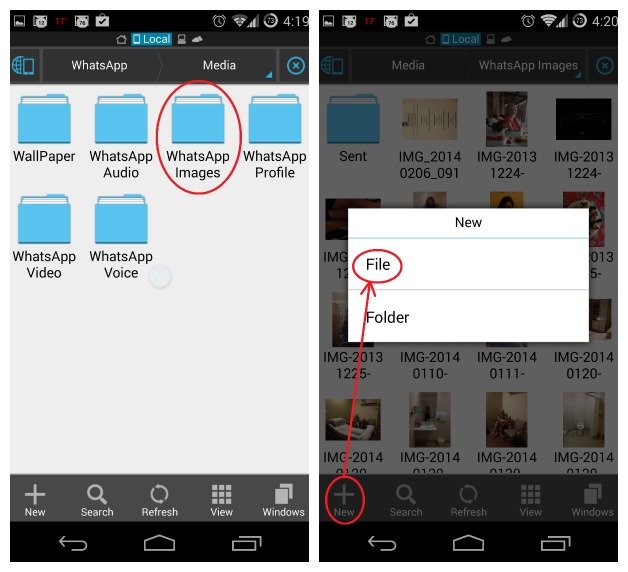 Now in the box type ".nomedia" without quotes and click on OK. A notification will appear on your screen saying that .nomedia has been created.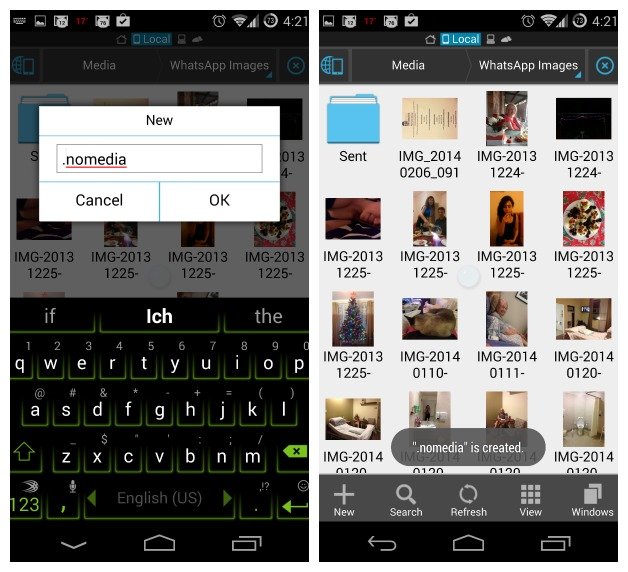 After doing this, go back to your gallery and find that WhatsApp folder is still there or not. Most probable it will not there (if it is still visible, try clearing the cache for your gallery app in settings > apps/app manager, depending on your manufacturer). If you are worried after doing this, then you delete the .nomedia file and all of your photos with WhatsApp folder will be restored into gallery.
If you notice that there is no .nomedia file in your WhatsApp images folder. All you need to do is enable hidden files in your file manager. In ES all you do is tap the little blue icon in the top left (the phone and globe), then scroll down until you see the on/off switch for "Show hidden files". Turn this option on.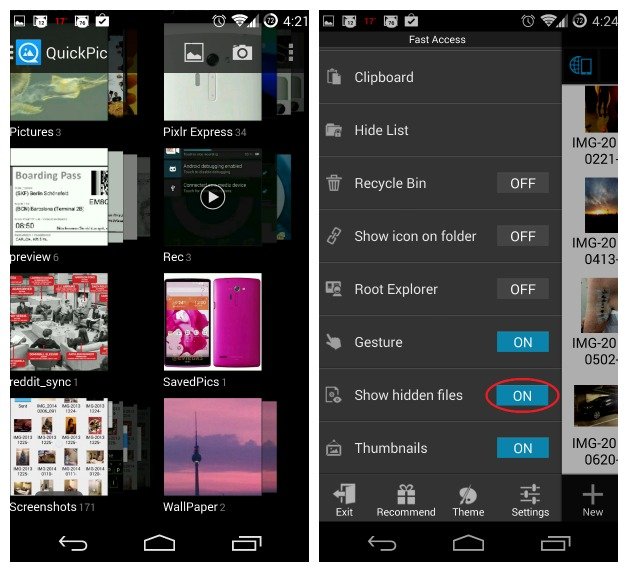 Now if you go back into your WhatsApp images folder you'll see your hidden files. Just long press the .nomedia file and delete it. Your WhatsApp images will now reappear in your gallery app. If it is not visible, then try clearing your cache one more time.Don't forget to turn off hidden files if you don't want all of them showing up in every folder in your file manager.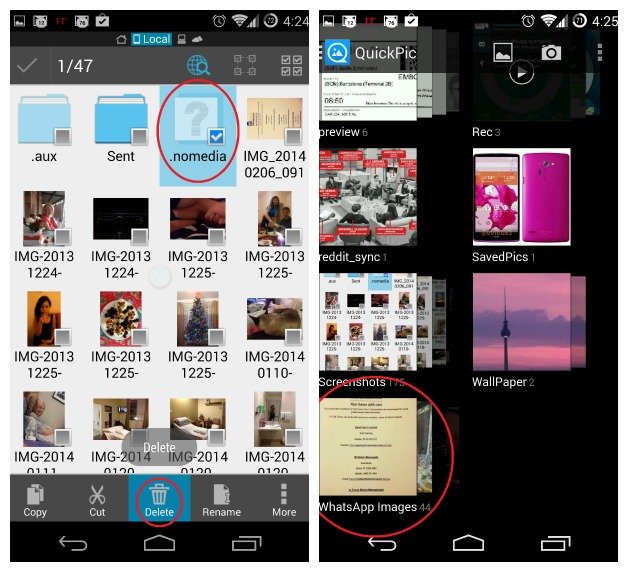 Read Next: How to access Whatsapp video and image folder in blustacks & Best Whatsapp Tips and Tricks 
Conclusion
So this is it, you have reached the end now. I hope you all are now able to hide WhatsApp images and videos in both iPhone and android. This was just a simple step by step guide from me, which I think is pretty easy too. If you are facing any problem in doing anything mentioned above, do let me know via comments below. I will try to solve your problem as soon as possible. Do share this post with your friends, and let me know about this trick too.