Android device becomes more popular than others Smartphone devices and it's because of graphical interface of android OS. Android OS has easily customizable interface which allows user to customize or personalize their android device as per their needs.
By defaults android device comes with few types of wallpaper, tools and few widgets which are common for all android devices. But we can change wallpapers easily but what if someone wants to change the entire graphical interface of android device and if you are one then you can personalize your device by using any best android launcher.  Best Root Apps for Android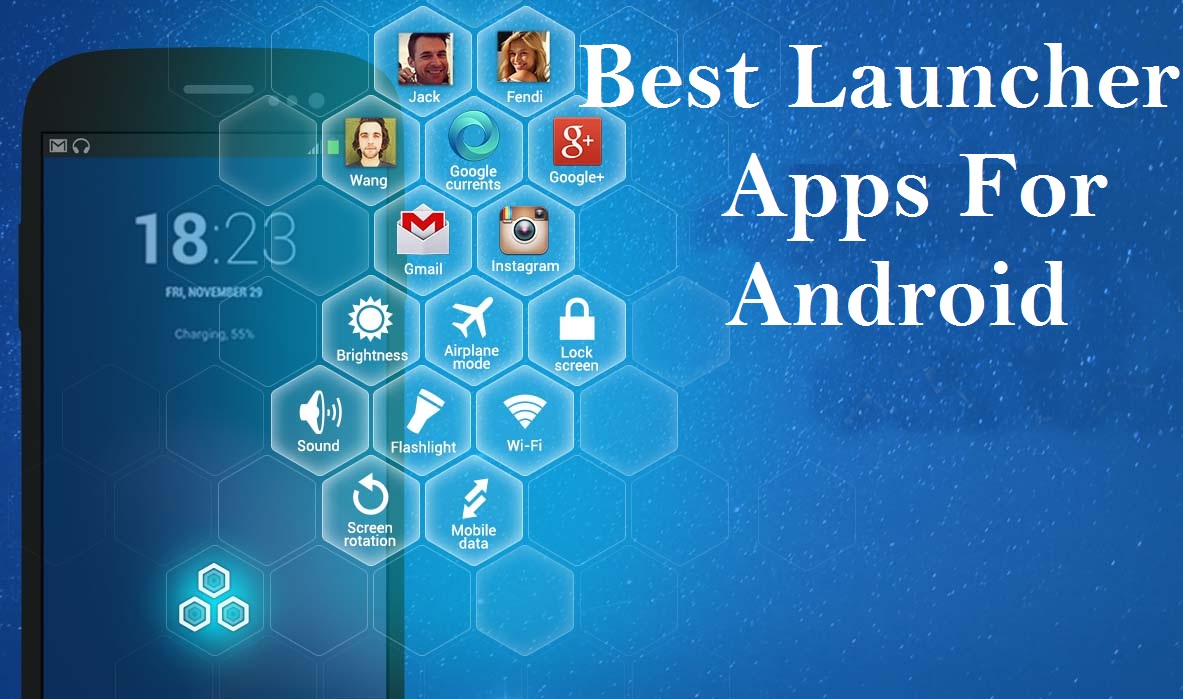 Android device generally comes with Stock Android Launcher so if you are bored with your default interface of your android device then install any best android launcher and make your android device more attractive.
There are lots of best launcher for android available on Google play store but all of them are not good and users are confused that which launcher they should use or not and this is why we've made a list of top 20 best launchers for android to make your android Smartphone more beautiful and give your device a different look.
So take a look on those Best Android Launchers. Best Root Apps for Android
Top 20 Best Android Launchers App 2015
Go Launcher EX
Go Launcher is the most popular and older launcher app for android with huge downloads and users as It has lot features and personalization options like 10,000+ themes, 20+ fancy transition effect, more than 15 widgets, super smooth flipping and transition effect by 3D core, launch apps using gesture and more.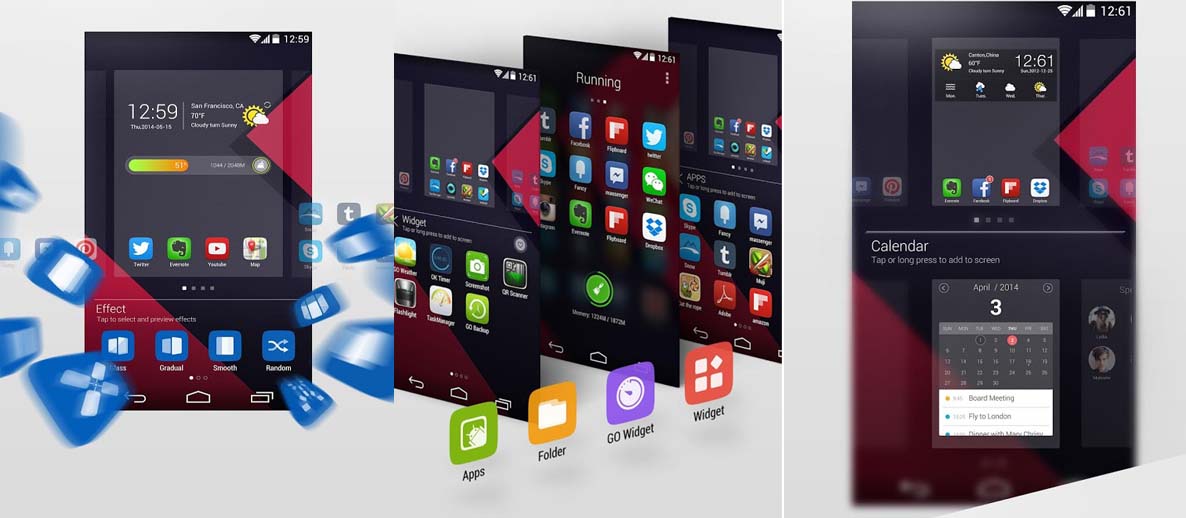 Get Go Launcher EX for android.
NOVA Launcher
Nova Launcher is one of the most popular and best launcher for android and it is the original and most polished customizable launcher for modern android phones and tablets. It's fast, flexible and easily customizable.
Once you install this launcher, it will give you full control over custom icons and their application. It has lot of features like customize home screen easily, fully scrollable doc available, user can choose custom patterns, specify different folders previews and more.
Also it has both free and paid version. Nova Launcher will definitely give a new look to your device.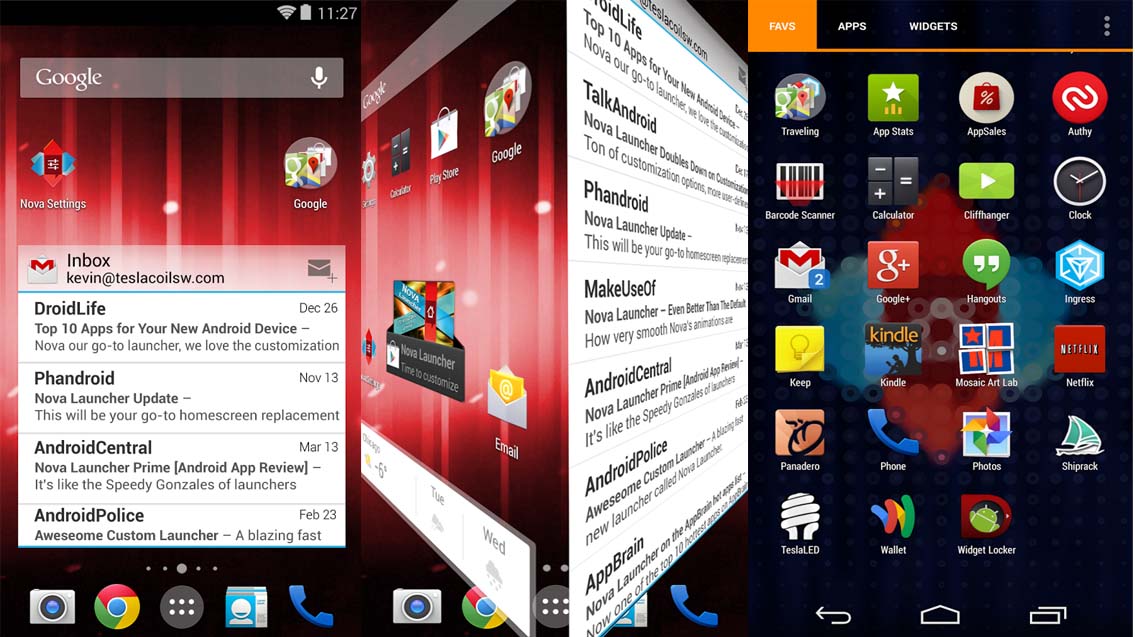 Get Nova Launcher for Android
Google Now Launcher
Google Now is the one of the top n best android launcher and this is the launcher which is developed by Google itself and it is available for all android 4.1 (jelly bean) or later. Once you install this launcher app on your device it will be easier than ever to get the right information at just right time.
Google Now include voice feature just say OK Google when you are on home screen and then you can say your search queries or tell your phone what to do like send text messages, play songs etc.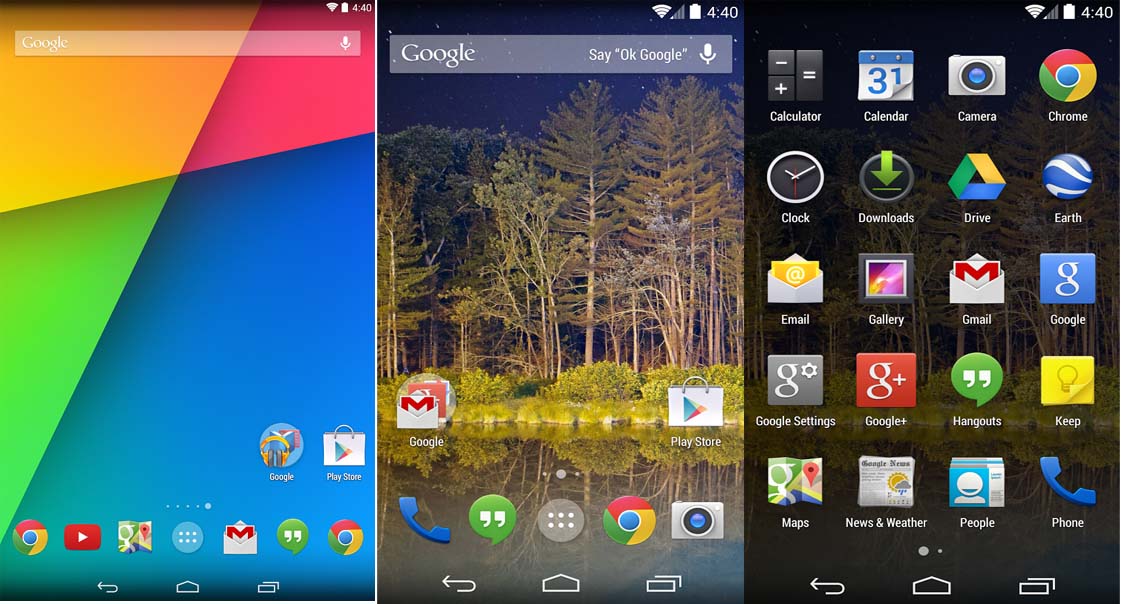 Get Google Now Launcher for Android.
One Launcher
One launcher is a lightweight yet fully featured launcher for android Smartphone and tablets. This launcher comes with in-built HD retina ready free wallpapers. The user interface is really beautiful and clean, resulting in easy use of the device.
Besides other similar android launchers, One Launcher use less memory and CPU process so it won't make your device slower. The most amazing thing about this launcher is that it is ad free, so you will get better experience with your device.
It have a customizable home screen with lots a theme options, so everyone can make their phone like they want. It allows you to add clock, calendar and many more widgets on device home screen.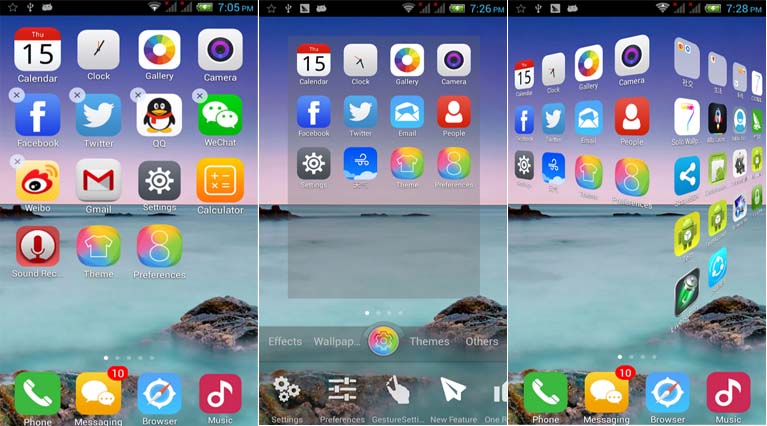 Get One Launcher for Android
Honeycomb Launcher
Honeycomb is a quick, easy and elegant launcher app for android and it is one of the top launcher for android. Honeycomb Launcher allows user to access any function in only 3 seconds like call friends, text, launch apps and toggle system features in just 3 seconds.
With this launcher you can do lot of things like instantly scan QR codes, barcodes, play all your favorite music instantly, weather updates on the fly, Toggle the built-in portable wi-fi hotspot without rooting your android device and Lot more features.
The best part of this launcher app is all the features are free so it is one of the best free launcher app for android Smartphone.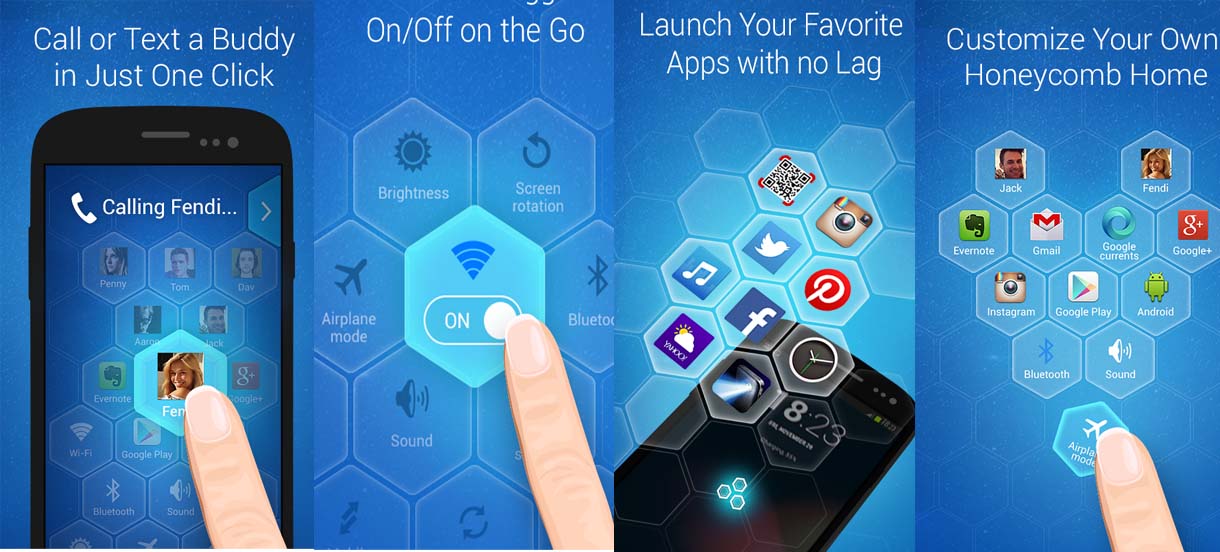 Get Honeycomb Launcher for Android
Apex Launcher
Apex Launcher is a fantastic launcher app for android that has potential to give you phone a complete makeover. This is one of the top android launcher with great features and performance. It is available for android 4.0 or above.
This launcher will make you feel that your android is super fast after lots of customization. This launcher comes with lots of features like customizable home screen grid size and up to 9 home screens, Scrollable dock with up to 7 icons per page and up to 5 pages, fancy transition effect; you can hide elements, infinite & elastic scrolling and lot more features. As like other android launcher also it has paid and free version.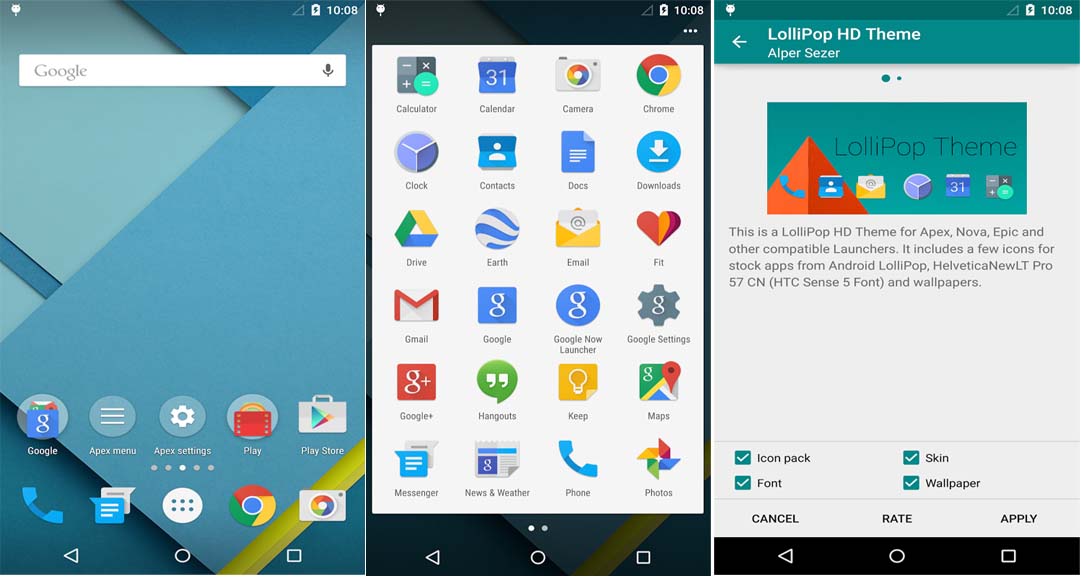 Get Apex Launcher for Android
Holo Launcher
Holo Launcher is simple, fast powerful and highly customizable home replacement based on Kitkat launcher.  Holo launcher can run on Froyo, Gingerbread, ICS and Jelly Bean.
This launcher has lot of amazing features some basic features of this launcher are Full ICS Style, Custom desktop pages and Grid up to 9 desktop page and 10*10 grid, Custom drawer, Scrollable dock, customizable icons label color and more.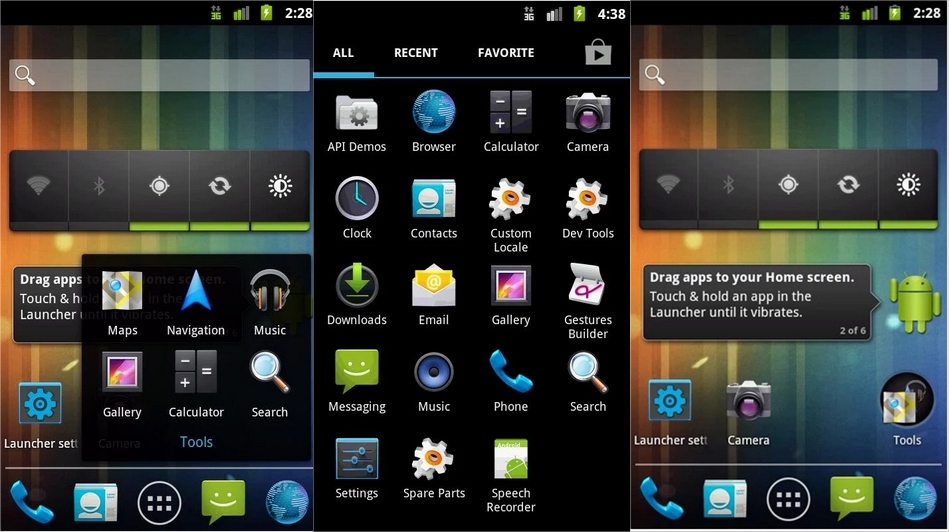 Get Holo Launcher for Android.
Smart Launcher 2
Smart Launcher 2 is an innovative launcher app for android over 10 million download, featuring minimalist design, low resource requirements and a user-friendly interface that allows users to launch any application with just a few taps.
On this launcher The Flower gives you access to the most common apps easily, The Drawer automatically organize your apps into few important categories. SL2 support every Apex and Nova icon set and more than 300 themes have been created specifically for Smart Launcher.
You can hide your unused apps very easily, also there are lot more features available.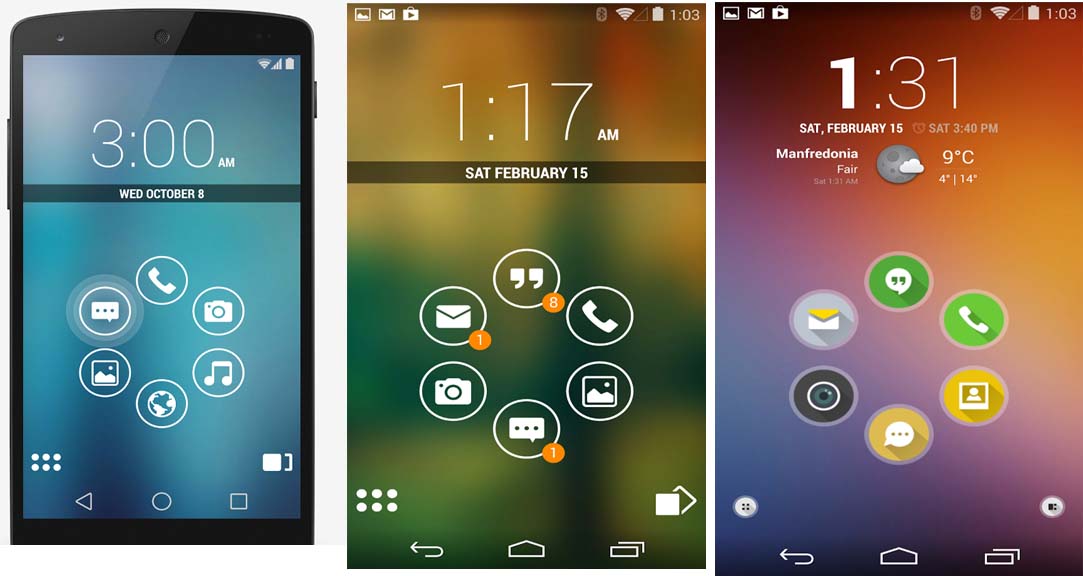 Get Smart Launcher 2 for Android.
Launcher 8 Free
If you are bored with default interface of you android and want to try new style like windows 8 then Launcher 8 app is for you.  Launcher 8 will make your android phone look like Windows 8.
It's a fast and clean android launcher which allows users to customize personalized windows 8 layout for your Android Smartphone. With this launcher you can add tiles with different size & colors, save and restore the theme, edit start screen layout, you can add wp8 style lock screen and status bar and more features.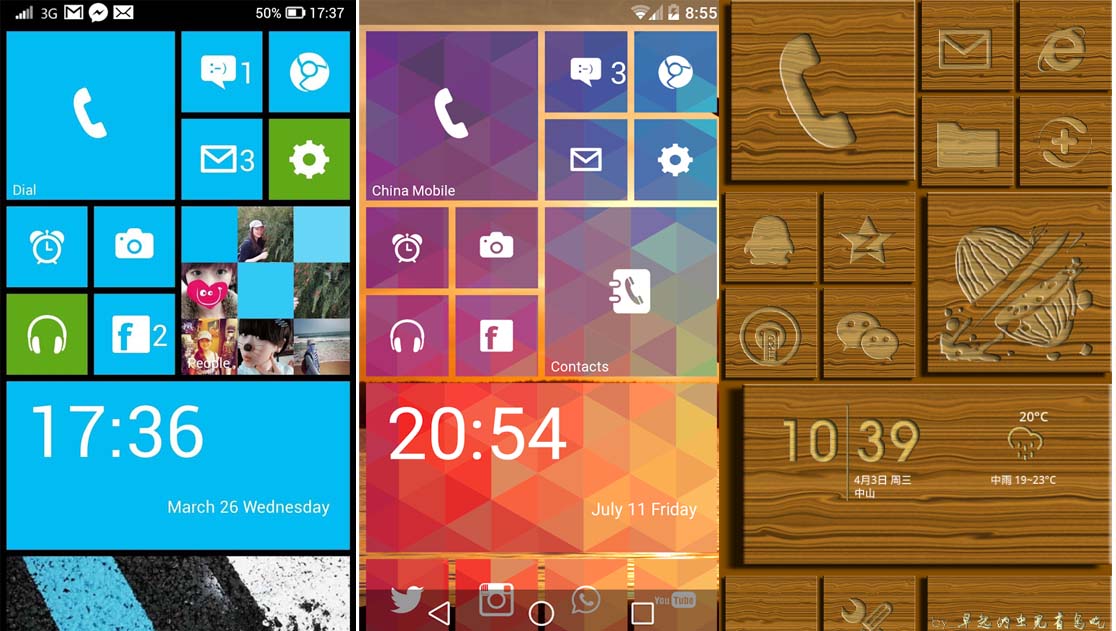 Get Launcher 8 Free for Android.
Next Launcher 3D Shell Lite
Next Launcher 3D is one of the top and best 3d launcher for android with real 3D visual effect. This launcher will show you how 3D dynamic effects and highly customizable home screen replacement app could redefine your android device.
Some basic features of this launcher are extremely fancy 3D effect with buttery smooth experience, Efficient and powerful batch apps management with gestures, Stunning 3D screen preview and more. Like other launchers it also has both paid and free version.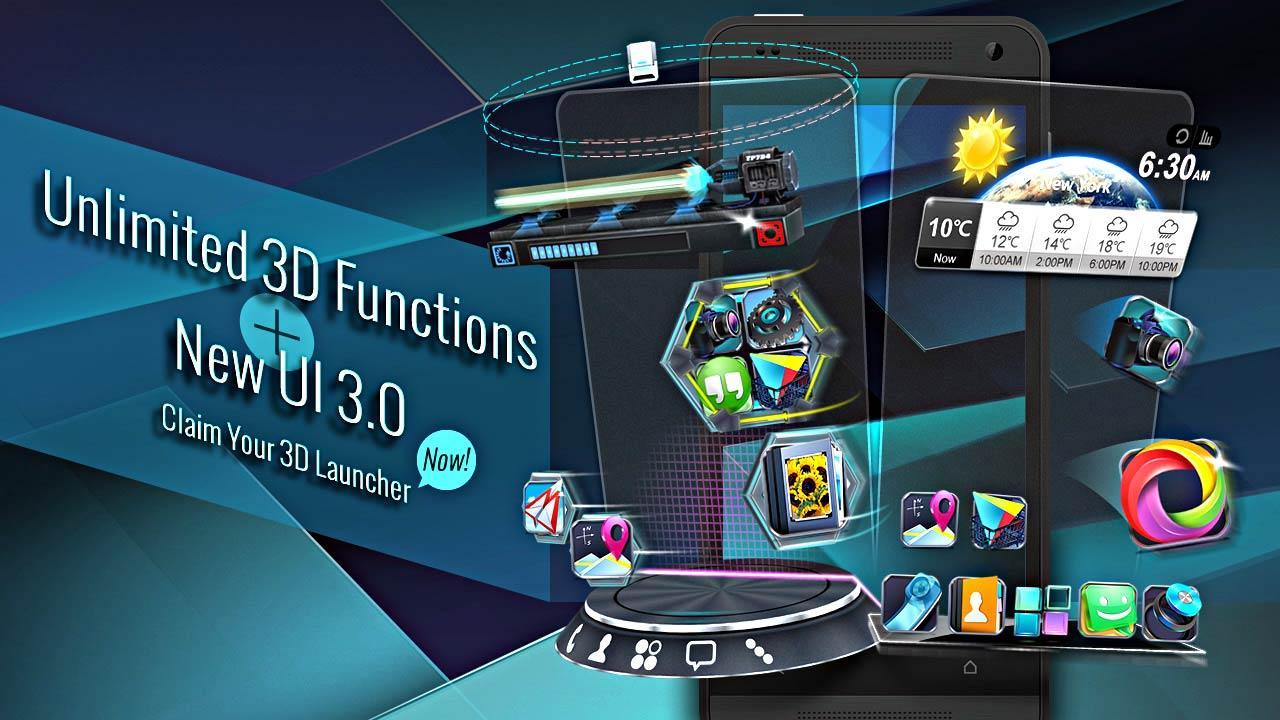 Get Next Launcher 3D for Android
Buzz Launcher
Buzz Launcher is a highly customizable launcher that enables users to apply shared home screens to their Smartphone. It's a ad free custom launcher which has more than 650,000+ free themes which is the largest number of free themes among launchers.
With Buzz Launcher you can customize so much more than just your wallpapers or theme, change between multiple smooth, fast and easy transition effect and more. It is available from Android version 4.0.3+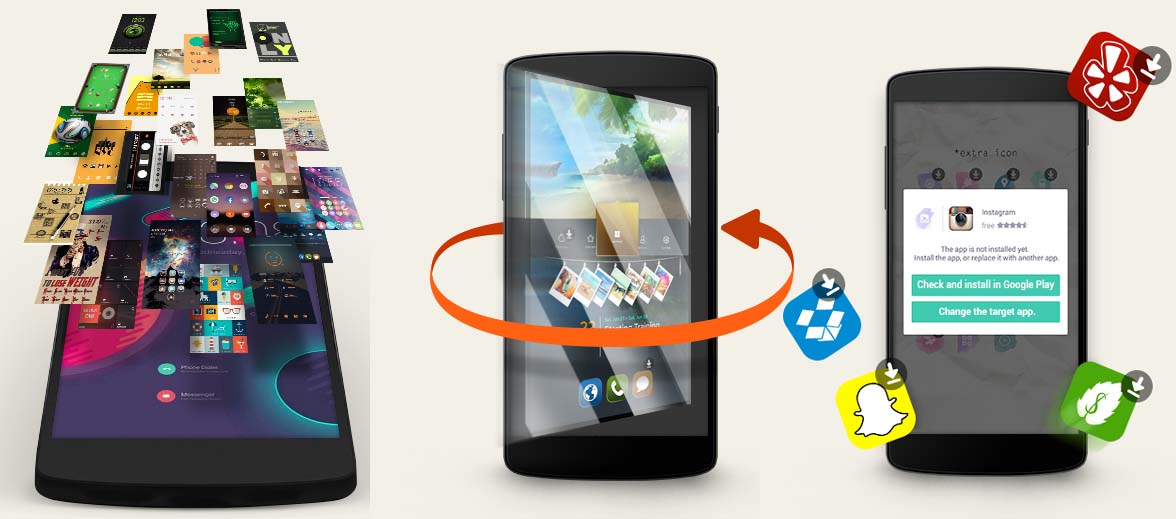 Get Buzz Launcher for Android.
Solo Launcher
When it comes to the ranking of the most popular launcher in Google Play Store, Solo Launcher ranks on top 3. It has more than 100 million users around the world. It is also a lightweight yet powerful android launcher, which will make your android device look as you want.
It does not consume much power and cpu, so you will have smooth and fun user experience. Solo Launcher can clean cache, boost speed, clear storage and save memory space faster than other launchers. It also has some widgets, wallpapers and themes by which you can customize your android device.
It also has some locker plugins, which helps you in protecting your privacy. You can enable gestures with it and control your device in a new way.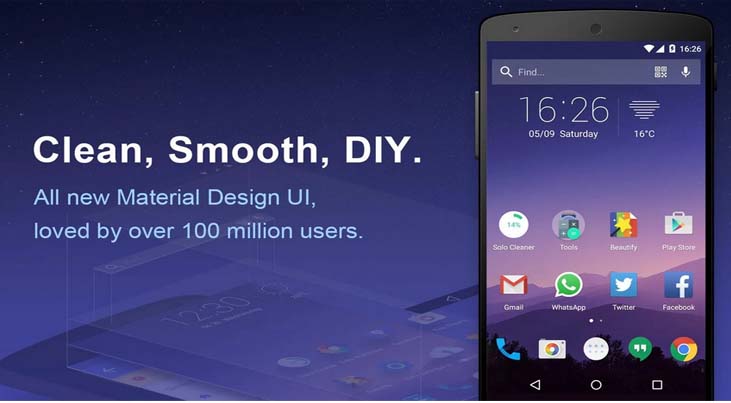 Get Solo Launcher for Android
I Launcher OS 9
I Launcher is the best ios launcher for android. After installing this launcher on your android device, you'll get ultimate ios experience on your android smartphone. It's a fast launcher for android, its extremely easy to use, customize themes and using smoothly.
It has lots of wallpapers for you to choose comfortably. It is designed same as OS 9 with various symbols and wonderful pictures. Storage capacity of this launcher is small which makes your device fast.
Also it has smart password and screen lock with touching which makes your device secure and comfort. But the most important thing it will make your android device lookalike iPhone which is awesome.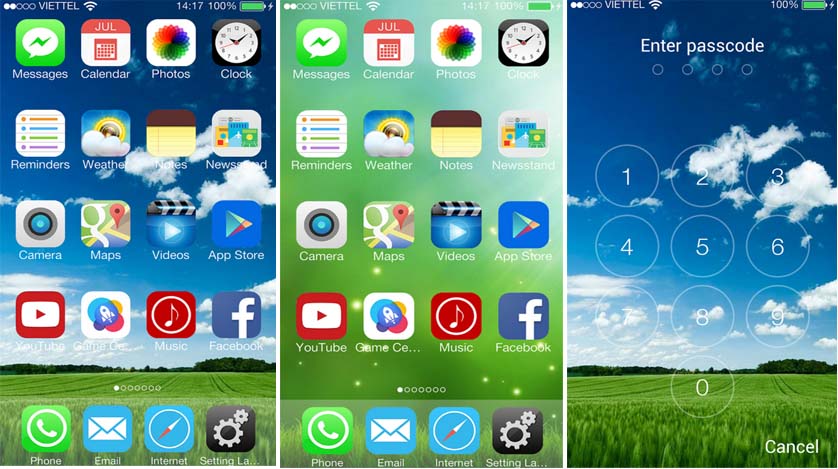 Get I Launcher OS 9 For Android 
360 Launcher
360 launcher is one of the fastest and best android launcher in the world which supports android 2.0+ devices. 360 launcher is a powerful home launcher which provides a series of highly customized features, tens of thousands of themes, wallpapers, fonts, lock screen, dozens of widgets, icon, Icon background, a lot of transition animation and app starting animation etc.
Its offers you many first ever features to customize your own home screen. It also has some more features like built in cleaner which clean junk files that clear your device's RAM, built in power saving widgets which helps you to save more battery and more features. Most important this beautiful android launcher is absolutely free.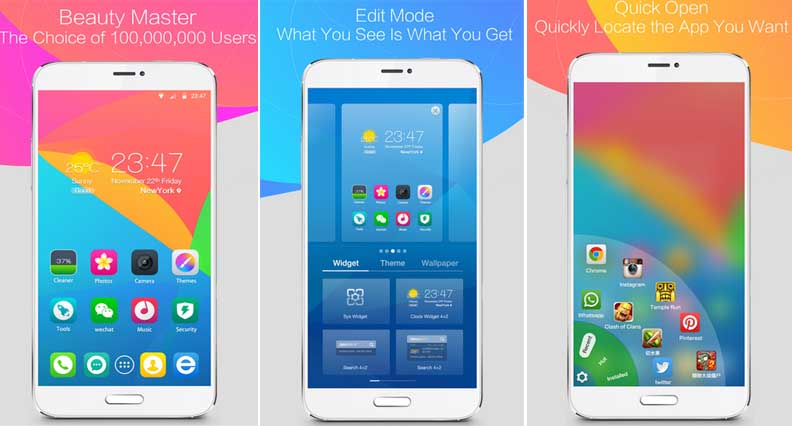 Get 360 Launcher for Android 
Everything Me Launcher
As the name suggests, this launcher have every possible thing in it and its . EverythingMe Launcher can automatically organize your apps into folders you choose and your own gestures to open apps or features.
Along with it you just have to swipe left to call or message your top contacts. There is a prediction bar in it which continuously tracks your activity and delivers the apps you need right now, according to your context. There is a fast search feature in it through which you can get search results faster on your android device.
All you have to do is to just type one letter and all contacts, apps and information related to that letter will get displayed on your screen. One unique feature of this launcher is known as Lucky/Daily Wallpaper, which presents a new beautiful wallpaper for your phone every day.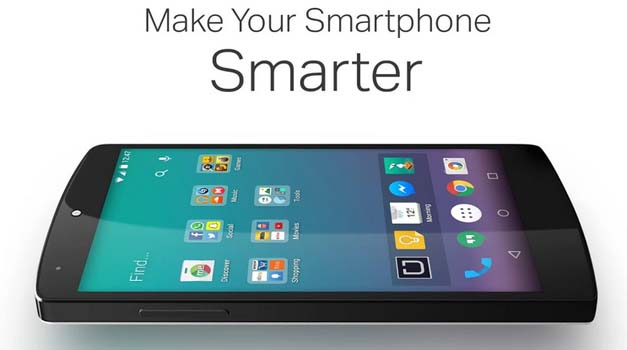 Get Everything Me Launcher for Android
Dodol Launcher
Dodol Launcher is another beautifully and best launcher for android devices. Dodol Launcher have more than 15 million downloads worldwide and have its own community. It has thousands of in-built high quality themes, wallpapers and icons which are created by best designers of the world.
Though themes are available for free, while some wallpapers and icons are paid. When you will install this launcher on your android device, Memory Cleaner and Quick Settings widgets will be added automatically to your device's home screen.
This launcher lets you share the screenshots on your Instagram or Pinterest. Dodol Launcher is only compatible with Android 4.0.3.or later versions.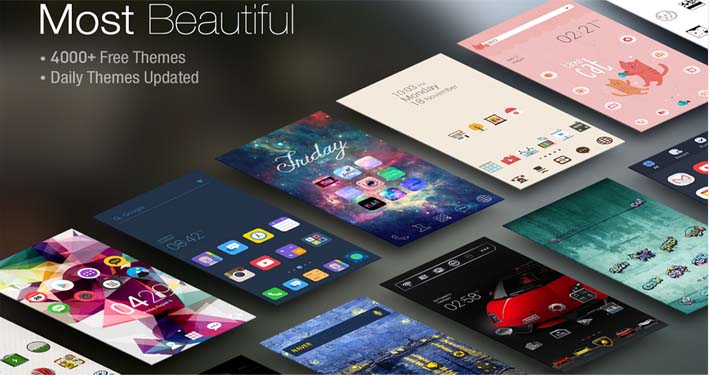 Get Dodol Launcher for Android
Action Launcher 3
Don't get distracted with the name. This launcher for android devices is among the top 10 best material design android app according to Verge. Not only this but Action Launcher 3 is ranked #1 on Android Central's the best android launchers of 2015 list.
Best feature of this launcher is Quick Theme, which lets you customize your whole device according to wallpaper. Google search box, folder background, home screen all can be themed with wallpaper.
There is an icon pack included in this launcher by which you can scale icons and change individual icons. You can download this launcher for free from Google Play Store, but some of its features are available only as paid option.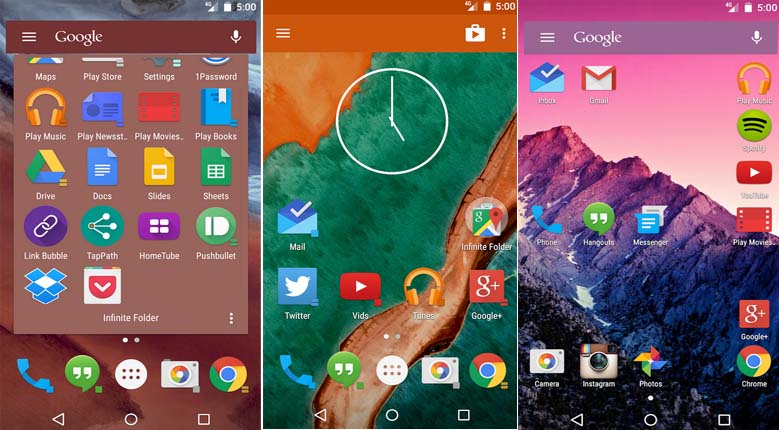 Get the Action Launcher 3 for Android
C Launcher
C Launcher is the one of the fast and best lightweight android launcher. C launchers is highly customize Launcher featuring minimal battery consumption, user friendly interface and clean UI, smart and speedy mobile search which protect your privacy from 3rd parties while offering ultimate customization experience.
Along with these features it also has lots of others features too like you can hide your apps and can protect you privacy, IOS Style lock screen, free beautiful live wallpaper, you can customize your device with thousands of categorized themes, wallpapers and icon packs.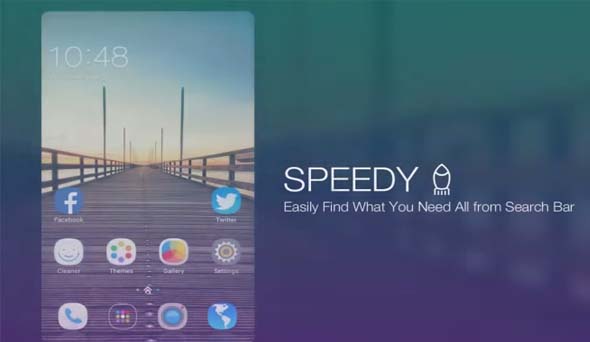 Get C Launcher for Android  
Themer Launcher
Themer is not only an android launcher but it includes HD wallpapers, colorful icons, amazing and useful widgets and free themes too. It is made by some professional designers so there are some premium themes available too.
With Themer you can easily customize your android device's home screen like you want. Themer will auto categorize your apps, so next time if you want find any app just head over to the appropriate category. Thousands of different themes with different designs available to match everyone needs.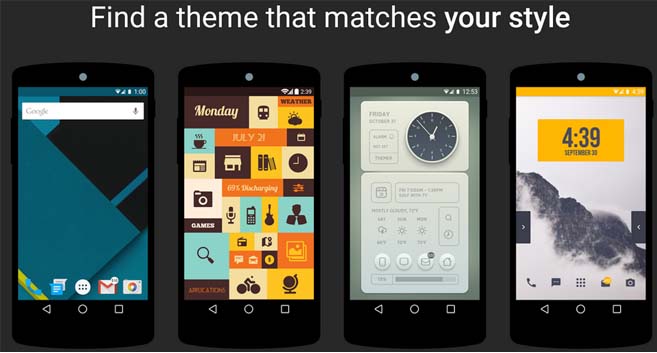 Get the Themer Launcher for Android
Lollipop Launcher
Lollipop Launcher is one of the Best Android Launcher of 2015. Its replace your original home screen with new one which you can control, customize, with Lollipop android Launcher you can change icons themes layout, animation and more.
Android Lollipop Launcher has lots of features such as Ok Google, Icon Themes, and Customize App Drawer, Infinite Scroll, Scrollable Dock, Gestures etc. With the Customize App Drawer you can hide apps and can add custom effect. Also Scrollable Dock helps to create multiple docs and scroll between them. Lollipop launcher supports ICS, Jelly Bean, Kitkat and Lollipop.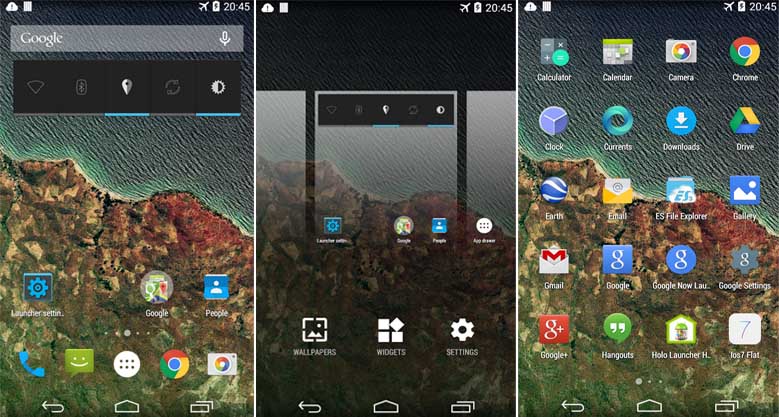 Get the Lollipop Launcher for Android
Conclusion
These are top 20 best android launchers of 2015, So if you want to try some new style then get one of these above listed launcher apps and customize your android device to make it more beautiful and attractive.
There are thousands of launchers are available for android and these are only 20 out of them so don't hesitate to try other android launchers but before you install any launcher on your android do check reviews and rating of users for that launcher.
If you know any other best launcher for android then mention it in your comment and we'll update in our list.