Xiaomi is very popular Chinese brand in Indian Android Smartphone market and it was all because of their smartphones with amazing features and affordable price. They got huge success on Xiaomi MI3 and Redmi 1s handset in India and there are many Xiaomi Redmi 1s user so we've decided to share some Xiaomi Tips and Tricks.
So if you are Redmi 1s user then these Tips and Tricks can improve your experience by using Xiaomi Smartphone features and apps with MIUI interface. So take a look on these Xiaomi Redmi Tips and Tricks.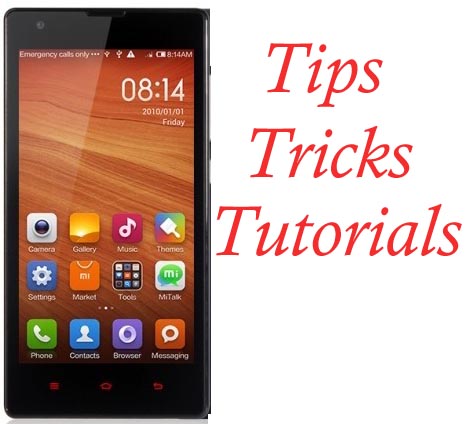 Top 10 Best Redmi 1s Tips Tricks and Tutorials
How to take Screen shot on Xiaomi Redmi 1s
Taking screenshot on android remains as easy as ever and there different Xiaomi Redmi 1s. To take screenshot on Redmi 1s press volume down and power button simultaneously. Also you can do the same by pulling down notification panel, tap on settings and access the screenshot option from there
How to install Xiaomi Phone Manager in English
Enabled Soft Keys or on-screen buttons on Redmi 1s
You might be noticed that Xiaomi Redmi 1s does not have backlight keys at bottoms which make it really difficult to use those keys at night or any dark condition and this is why you need to enable Soft keys or on-screen buttons to use navigation keys even in dark condition or night.
To enabled soft keys or on-screen buttons on Redmi 1s you must have a rooted device. So if you haven't rooted your device then first root your Redmi 1s by following one of these tutorial- How to Root Xiaomo Redmi 1s or Root any android device without PC. Once you rooted then follow the below steps
Install ES Explorer on your device which is one of the best file managers for android.
Open ES Explorer and tap on menu icon from left and tap to on Root explorer.
Tap on Root explorer >> Mount R/W >> R/W for both path and system and Hit on OK
Now click on SD Card >> Device >> Find System folder and open it >> Now you'll see a file named as build.prop tap on it and select ES Note Editor.
Hit on the menu icon from top of the right corner and hit Edit.
Now scroll down to the end of the editor and type the following command without space qemu.hw.mainkeys=0.
Now save the file and restart your device and you'll see on screen keys enabled on your device.
Also check Best Root Apps for android
Enabled Lite Mode
Lite mode is a shortcut for navigating from home screens. So if you find navigating home screen on your Xiaomi Redmi 1s then you can switch to Lite Mode for easier navigation. To enable Lite Mode just head over to Settings, select Lite Mode and tap on Lite Mode to turn on it.
Delete Unnecessary Apps
Sometimes you are fed up with unnecessary apps on your mobile screen then you should remove all unnecessary apps from your device. Deleting unnecessary apps from Redmi 1s is so simple Just hold on to the app which you want to remove and then drag it to the delete icon and you are done. Also we already discussed how to remove system apps from Xiaomi mobile
Take Note when you are on the call
With the dial pad based note talking ability you can collect all the contact and notes from your friends in a single place.  Select contact and place all the notes under that contact.
Turn Off Keyboard Sound
It can be irritating fact when you press a key on built-in keyboard on Redmi 1s and it's accompanied by a sound every time. But don't there is a way to turn of the keyboard sound on Redmi 1s. To turn the keyboard sound off just go to settings then select Language & Inputs and tap the on the keyboard which you are used and then uncheck the box of Sound on Keypress.
Enabled Developer Option Redmi 1s
There are a lot of situations when you need to enable developer option on your device but by default developer option is hidden on xiaomi Redmi 1s. So follow the below steps to enable hidden developer option-
Go to Settings of your Redmi device
Tap on General Settings
Tap About Phone
Tap on Android Version for 7 times
Then you'll see a message appear on screen "you are a developer" Now you can access developed option on General Settings to access the list of options which is mainly useful to developers.
Setup Screensaver
Unlike other android smart phones there is no daydream option to setup screensaver on redmi 1s. So if you want to setup screensaver then you've to enable it. To enable screensaver follow the below steps-
Head over to Settings then tap on Display.
Tap Screensaver then slid the Screensaver during sleep switch to Right.
Tap Picture Source and choose the picture from albums.
Now tap Duration to set duration you want to run screensaver and you are done.
Enable Clean Master
If you ever faced slow performance of your device then you should straight away understand that it's due to over-burdening of the RAM and you need to clean the system and Xiaomi Redmi 1s has a simple tool for this called Clean Master which is one of the best cleaner and optimizer for android, it will automatically clear all unnecessary burdening which makes your handset performs as fast as ever. To close all running apps at a time, Long Press the Menu button and there you'll see all running apps, under that you'll see Clean Master just tap it and all running apps will be closed.
Root and Unroot Redmi 1s
However if you bought Xiaomi Redmi 1s then you must want to explore everything in your Smartphone, but it's not possible unless until you root your Xiaomi Redmi 1s android Smartphone and we already publish a tutorial to ROOT and UNROOT XIAOMI REDMI 1S
Conclusion
There are hundreds of Tips and Tricks for Xiaomi Redmi 1s smartphone and these are few of them. Hope you like these Redmi 1s Tips and Tricks. Soon we'll add more Tips Trick and Tutorial for Redmi 1s and also let us know if you know any.