WhatsApp is one of the best, most popular and dominant messengers ever made for android and iPhone. Though there are many others messenger available but no one can compete with WhatsApp but what are the WhatsApp Tricks and Tips.
It has more than 400 million active users worldwide and people attract towards WhatsApp because of its features and interface, even people started using WhatsApp on PC and due to its huge popularity few months ago Facebook bought WhatsApp for $19 Billion.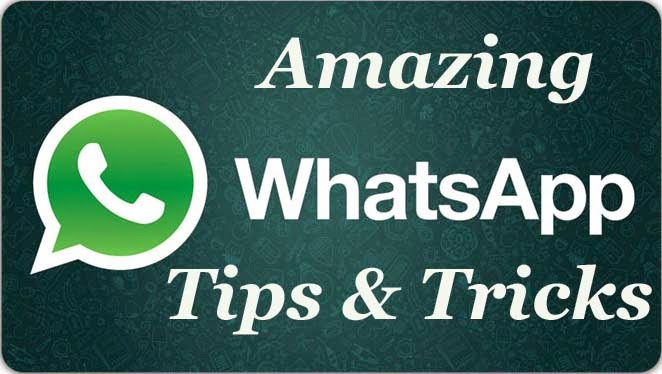 The popularity of whatsApp is growing day by day and that's why many popular WhatsApp tricks are coming to the internet and user are searching for those amazing WhatsApp tricks and tips.
If you are one of them who searching for WhatsApp tips and tricks this still here, Here in this article you will find those amazing and cool WhatsApp Tricks and Tips that every whatsapp user must know.
Read More: Best Whatsapp status & 

Best Alternatives of Bluestacks to Run Android Apps On PC 
Top 10 Best WhatsApp Tricks and Tips
Hide Last Seen on WhatsApp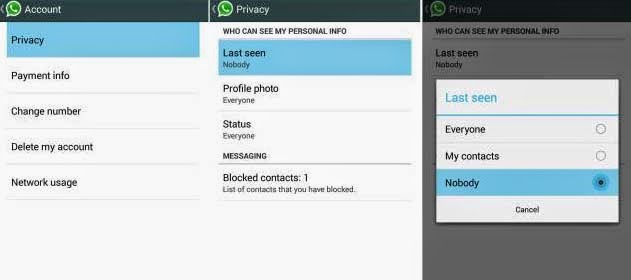 Last seen timestamp on WhatsApp give us an idea when the person was online. This feature really very annoying because it reveals weather you are online or not and in initial day's there is no option to hide this. But after acquirement of WhatsApp by Facebook, WhatsApp allows you to hide your last seen. To hide last seen on WhatsApp go to Settings > Account > Privacy > Last Seen > Select Nobody.
Recover Deleted WhatsApp Massage
Sometimes accidentally delete massages on WhatsApp and then regret for it. But now you can recover your deleted massages on WhatsApp without using any additional recovery software. By default WhatsApp store your all conversation and activities on your SD card and this is helpful if you want your deleted massages. To get back your deleted massage on WhatsApp.
Go to SD Card > WhatsApp > Database > and you will see two files named msgstore-yyyy-mm-dd.1.db.crypt (yyyy-mm-dd are the year, month and date respectively) and msgstore.db.crypt
Now rename msgstore.db.crypt to backup-magstore.db.crypt
Now go to settings > Application > Manage Application > WhatsApp and click on Clear Data which removes all data.
Now open WhatsApp and it will ask you to restore your backup data, then just click on restore and you are all done.
Create a Fake WhatsApp Conversation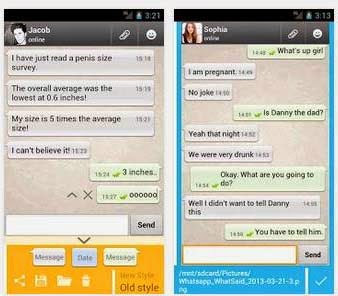 Have you ever seen your friend upload a picture of a conversation between some superstars and your friend where they make fun of each other? But this is not a real conversation its fake one and now you can create a fake conversation on WhatsApp to prank your friends. To create fake conversation on WhatsApp you need to download an app named Whatsaid. With the help of this app you will be able to create a fake conversation with anyone by adding their images and assigning names.
This app is removed from Google Play, so here is the new download link
Please use this trick only for fun, don't use it to heart anyone.
Change your Friend's Profile Picture on WhatsApp
The title of this trick like crazy. Yes! It's only for fun and with this trick you are not able to change your friends profile picture globally, you can change it only for you to prank your friend. To change your Friend's Profile Picture on WhatsApp ….
First of all choose a picture that you want to set for your friend's profile.
Resize that image to 561×561 pixel by using paint or Photoshop or any online photo editor.
Rename that image with your friend's mobile number.
Now save the image in SD Card > WhatsApp > Profile Picture.
Disable data connection so whatsapp will not automatically update the profile picture.
Now show it to your friend and I'm damn sure he/she will panic instantly.
Protect your WhatsApp with Password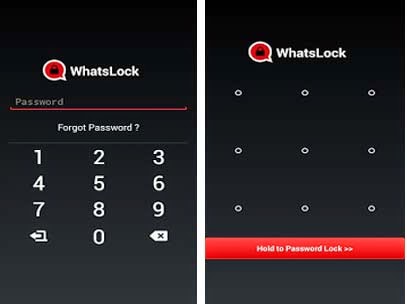 By default WhatsApp does not have any login details and that's why it can be access by anyone. But in whatsapp we do personal massage and don't want to reveal with others and that's why there are many application come to the internet to protect your whatsapp with a password.
To protect your WhatsApp with password just download WhatsApp Lock and install it in your android device.
This app allows user to set a Numeric Password and Pattern lock for WhatsApp. So that any other person cannot access your WhatsApp.
Stop Automatic Media Downloading
In the earlier version of WhatsApp all the media files such as images, audio and videos were downloaded automatically and this may kill your mobile's data and battery life as well. But with latest update whatsapp added an option to stop auto downloading media content. To stop Automatic Media Downloading
Go to Settings > Chat Settings > Media Auto-Download
Now change it as per your needs.
Change Mobile Number on WhatsApp without Losing anything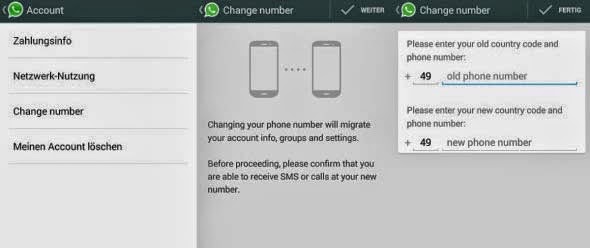 Generally most of Whatsapp users do, to change their mobile number they uninstall whatsapp and re-install it again with a new number. But if you follow this way then you will lose your all previous massage.
So instead of this way, to change your mobile number Go to Setting > Account > Change Number.
Now enter your both old and new phone number and hit done. It will send you a verification code on that number and verify it.
Hide two images as one on WhatsApp
Want to send two images as one? That means if you sent one beautiful image to your friend but once he/she click on that image then it will change to another image. Yes! This can be done with the help of an app called Migapp tricks App for Android and Fhumb App for iPhone.
By using this app you will be able to hide one image into another. This app is only available for Android and iOS devices.
Migrate or Transfer WhatsApp Conversation from one Phone to another
Bought a new smart phone and want to transfer all WhatsApp conversation from old phone to new phone? Here are the simple steps to transfer all whatsapp conversation to your new Smartphone
Go to from your old phone File Manager > WhatsApp > Data bases.
Copy and transfer all backup to your PC.
Install WhatsApp in your new phone and place the copied files at the same location.
Restart WhatsApp and you are done. Now you can see your all old conversation.
Know your Friend's WhatsApp Conversation
Want to know your friend's whatsapp conversation? Then just hold your friend's phone and follow the steps below
Go to SD Card > WhatsApp > Database > and you will see two files named msgstore-yyyy-mm-dd.1.db.crypt (yyyy-mm-dd are the year, month and date respectively) and msgstore.db.crypt
Now copy the 1st file to your PC.
Now visit Recover Massages and upload the file to view your friend's WhatsApp conversation.
Conclusion
These are the Top 10 best WhatsApp tricks and tips that you must try with your WhatsApp. But it's not the end we will update more whatsapp trick as soon as possible, until then try these amazing whatsapp tricks and leave a comment with your experience.
If you like these tricks then share it with your friends and help them to know these tips & Tricks of WhatsApp.