You might already heard that, Microsoft skips Windows 9 and announces about Windows 10 and windows 10 will be the last or final version of windows. Many of us have upgraded our computer systems to Microsoft's latest operating system Windows 10 Technical Preview.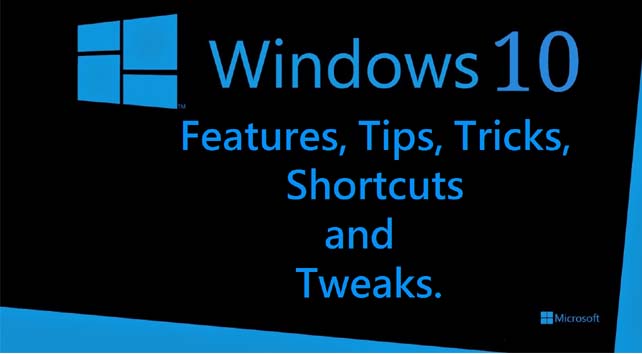 Though it is not available completely, but its technical preview is available for free. Windows 10 is an all new operating system, which is made by adding some more features in Windows 8.1. Many of the bugs are also fixed in it.
The technical preview has already been released and if you've had your hands on it, here are some features, tips, tricks, shortcuts and tweaks of Windows 10 that you should definitely try out.
Windows 10 Tricks Tips Shortcuts Tweaks and Features
Windows 10 Keyboard Shortcuts
Windows Key + Left – Snap current window to the left side of the screen.
Windows Key + Right – Snap current window the right side of the screen.
Windows Key + Up – Snap current window to the top of the screen.
Windows Key + Down – Snap current window to the bottom of the screen.
Windows Key + Tab – This opens the new Task View interface, and it stays open — you can release the keys.
Alt + Tab – This keyboard shortcut lets you switch between your open Windows. Tap Tab again to flip between windows and release the keys to select a window.
Windows Key + Ctrl + D – Create a new virtual desktop and switch to it
Windows Key + Ctrl + F4 – Close the current virtual desktop.
Windows Key + Ctrl + Left / Right – Switch to the virtual desktop on the left or right.
Windows 10 Tricks
Powerful Commands: Windows 10 have some new and powerful command line features, including hallelujah. So what's this? It is the ability to copy and paste inside the command prompt with Crtl+C and Crtl+V. To activate the goodies, open the command prompt. Right-click its title bar, then select Properties. You can find and enable the new features under the Experimental tab.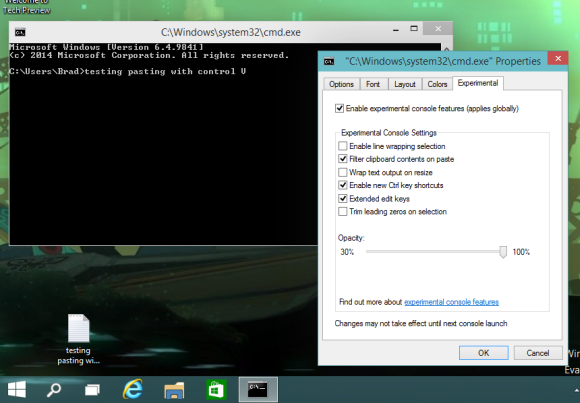 Add More Virtual Desktops: Virtual desktops are basic need now a days and they are a part of Mac and Linux from a long time. To add a virtual desktop click on the 'Task View' button located on the Taskbar, then click on 'Add a desktop' and a virtual desktop will be added.
Windows 10 Tips
Resize Start Menu: In Windows 10, Microsoft have added the most loving start menu back. The new start menu have a quality Modern UI design and have some really great features. In Windows 10 you can now resize the Start Menu by dragging the top edge upwards and downwards.
Change Start Menu Colour: As I told earlier, the start menu of Windows 10 have some great features. One more thing you can do to customize your start menu is by colouring it. You can actually change the colour of the start menu, so it suits and matches your desktop background. To change the colour open the Start Menu > Right-click on any empty space > Personalize > Choose your colour.
Add Recycle Bin To Taskbar: Until Windows 8.1, Recycle Bin could never get its place on Taskbar. You can't even do that by tweaking the registry. However Microsoft have looked into at and finally they have added a new feature by allowing user to add Recycle Bin to taskbar for faster access. To place the Recycle Bin on the Start Menu first you need to place it on the Start Menu (like you did it in the Windows 8 Start Screen) > right-click on the icon > click on 'Pin to taskbar'.
Windows 10 Tweaks
Make Start Menu Look Like Windows 7:This is a simple tweak of Windows 10. For it first you will have to unpin all the tiles from the Start menu, which will make it minimal. Secondly, pin the tiles that you want for quick access. Do it by switching to the "All apps" view > right click on the app > Pin to Start. So in the end, you can also change the colour of the Start menu to make it look like that from Windows 7.
Windows 10 Features
Windows 10 Universal Apps: Windows Universal apps are the new name for Metro apps/Modern apps/Windows Store apps. Windows 10 will be able to run a single app on all of your windows devices, without any worries. So you don't have to worry about your data now. You can access it anywhere, anytime. For more information you can visit Microsoft website. Here is an image which explains Windows 10 universal apps clearly.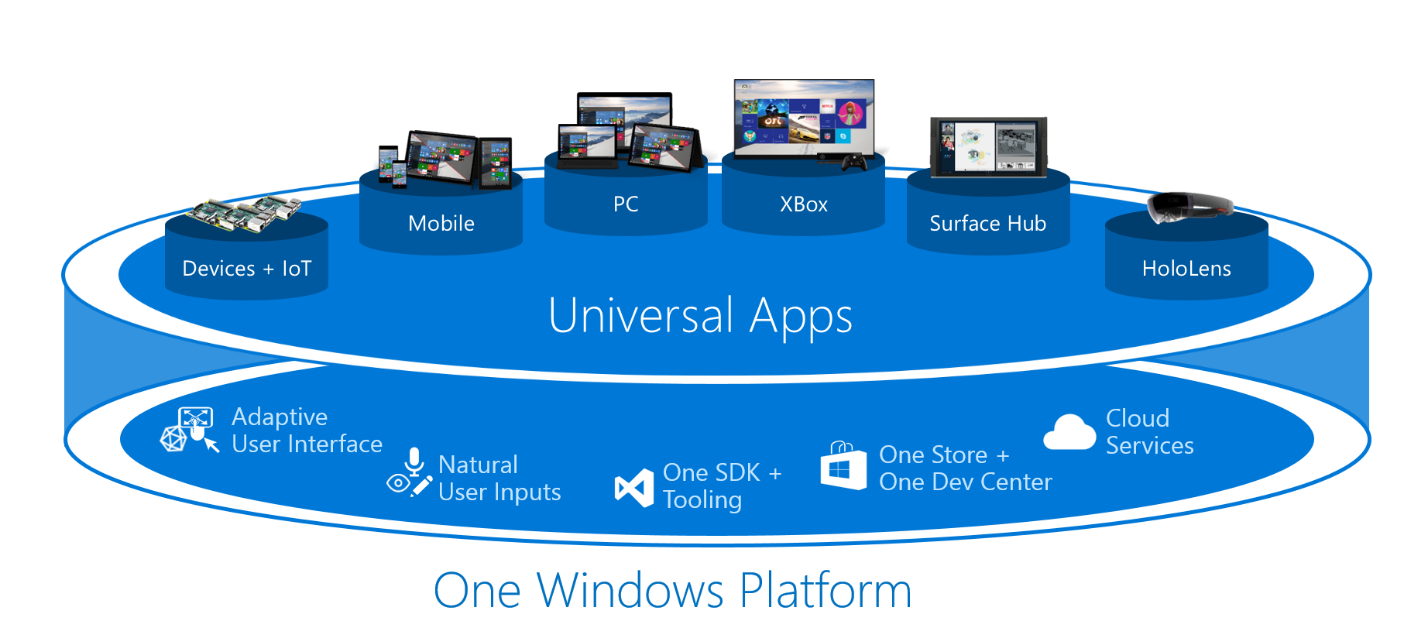 Schedule Your Restarts: Now this feature is most loved by the users in Windows 10.  If you've got pending updates that require you to reboot your PC, Windows 10 will allow you to schedule a specific time for it to do so. Open the Settings option in the Start menu, then head to Updates and Recovery > Windows Update. If you have an update pending, you'll see the screen at left, which lets you schedule your reboot after you select the "Select a restart time" radio button.
Conclusion
Windows 10 is definitely a great comeback from Windows after the failure and less popularity of Windows 8 and Windows 8.1. There are many great features in it and some of them are hidden as of now. Currently it is available on as a preview, full version of Windows 10 will be released soon as soon as they get reviews about preview version from users.
So above are some of the best tips, tricks, shortcuts and tweaks of Windows 10 which can help you get most out of it.Do let me know your views on it via comments below. If you know any other great thing about Windows 10 then share it in comments below.