Yeah, You heard it right Now you can earn money with your phone. It is one of the most easy way to earn money because it is very easy task to do. I believed that in modern generation everyone is love money and want to earn more. And I also believed that this smartphones are not just limited to games, Facebook  and YouTube.
But there are many ways to make money with Smartphone but before you just have proper knowledge of them. So, today we will give you the such apps that really will gives you guaranteed money. 
Free Online Recharge Sites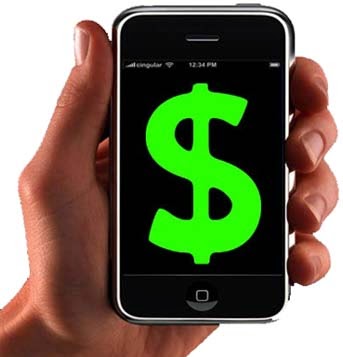 I believe that majority of us has smartphone.. but no one knows how  to earn money with his/her own smartphone, but don't worry today I'm going to introduced some Best Money Making Apps for Smartphone which will help you to make some money or rewards  with smartphone by doing simple task on it.
All  you have to do is some simple task like to  see advertisements, images and some videos refer your friends etc.. So check these top money making apps and download them to earn money from your smartphone.
Top 10 Best Apps to Earn Money Online
Platforms: iPhone Only
How it works: Download these app and then earn more and more money by sharing apps on social media (facebook, strongly recommended).
App pays points on RewardsDen and Kiip. These services allow you to earn discounts or free items from places SkyMall, Overstock.com, eBags, PetSmart and disney. More and More share will helps you to earn more revenue.
Platform: Android only
How it Works: MintCoins gives you money by completing their simple tasks like downloading some other apps, watching some videos…
MintCoin is one the best apps which is made for giving you money. You can get money PayPal and the minimum payout is the $5.
Platform: Iphone and Android Both
How it works: Firstly download this app and create an new account and start accepting "shifts." You can earn points as you successfully complete these shifts and gain your paying assignments.
It will also pay you for the work like capturing pictures, reviews etc. It pays you through PayPal from range of $2-$20 are paid within 48-hours.
Platform: Android
How it works: It is one of easy to use app only you just have to do simple tasks like watching video ads, create an account in some websites only. This is one of the most entrainment app as its name "Get Paid To Play".
Minimum payout is $5 through PayPal.
platform: iPhone, android, Blackberry.
How it works: This is a survey type app. First of all download this app and create your account with details and then you will contacted by your given e-mail and push notifications.
It pays in reward points and you have to earn from 1 point to 100 points.
Minimum payout is $5 through paypal.
In my opinion, i didn't like these type of survey app because it consumes very much time as compare to others.
Platform: iPhone, Android as well as you can also play on twitter, tumblr and youtube.
How it works: First of all create a account on Mylikes and link to your social media profile. It pays you cash in two ways either PayPal or amazon gift cards. You'll be paid for as many views or clicks you're receiving in your campaign. It is a perfect for those who were love social networks.
platform: iPhone and Android
How it works: Users have to create an account and have to find "GIGS" (which meant tasks). These tasks are like app testing, data verification, surveys, taking pictures. etc.. It's a quite difficult tasks but if you have to earn money then you have to do at least these small tasks.
It pays you through Paypal. Each task will pays $3-5.. if you'll become a professional in Gigwalks then you can easily up to make $100 a day. Payment for tasks is made within 7 days.
Best Music Downloading App for Android
Receipt Hog is my one of the favorites in money making app.
How it Works: You need to submit all your grocery store receipt. It's a very funny task that all you enjoy. They usually takes your grocery store receipt (which include sprouts,frys,walmart etc.)
During November and December it also gives you free bonus as a holiday. It pays you through PayPal and Amazon gift pack.
CheckPoints is a quite funny name but it is very good app for your smartphone.
How it Works: Usually Checkpoints select products like Coca-Cola, Dreyers etc. in shopping mall to earn more rewards. You can also earn money by watching some videos, playing online games. It only pays you through Amazon Gift Packs, where you can redeem.
It is the best games for the couponers. It gives you not only coupons but Ibotta also gives you restaurants, Movie, Home appliances coupons etc.
For this, You have to choose product of Ibotta, then simply complete the task to get the product. Then you have to verify your product through phone by scanning bar-code. It is best for those who are love coupons.
Conclusion
These are the best money making apps to make money from smartphone, but keep in mind that these money making apps will not help you to get rich quickly. So don't get hurry about it.
I Hope you like it, if you like it then share with your friends and also share your experience with us about these top money making apps.