Android, one of the most popular and widely used mobile operating system is quite famous for what it offers but what is the best android widget apps. There are many advantages of having an Android device like you can customize your device with launchers or you can install custom roms, but the thing which everyone likes is Widgets.
Widgets are there from a long time in Android, and with the time they are getting improved. Most of the Android widgets out there are re-sizable and some of them can even be customized.
Thousands of android widgets are available over the internet, and people often ends up downloading some crap in their phone, just by looking at its fancy title.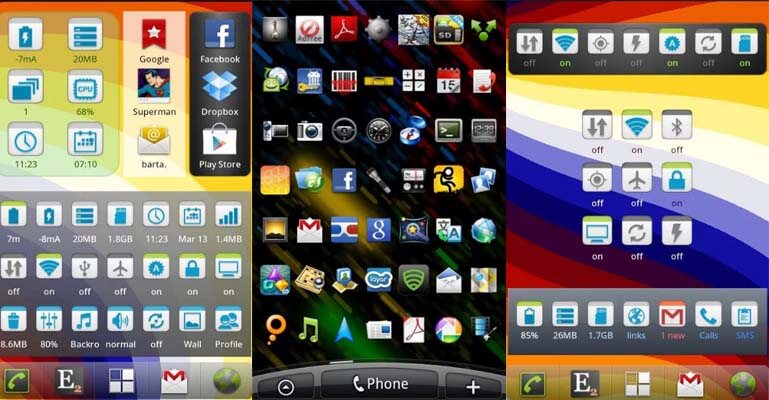 If you are using an Android device, then you should definitely use android widgets in it, they will make your android device's home screen attractive, and helps you in giving quick details of what you are searching for.
There are different kinds of android widgets available over the internet, like weather forecast, news, clock and alarm etc. Many widgets for android devices on play store are also available, so you can get them easily just by searching for them.
This list of best android widgets 2016 focuses on best android widgets. Here in this post we are going to tell you about some of the top android widgets of all time which you can download and use on your own android device.
Top Best Android Home Screen Widgets 2016
If you are looking for weather home screen widget for Android, then you might be interested in downloading Amber weather widget for your Android device. You can get to know about the weather of your current location or any location in the world with this widget.
This is among the most popular widgets for android available right now. You can get detailed weather report by using this. Gives you information about temperature, wind speed and direction, humidity, visibility, atmospheric pressure, air quality index (AQI), dew point and UV index.
As the name suggests, it is a widget for android phones which is related to Calendar. More than 1 million people around the world uses this app to get notified about the events of the month. This app have a collection of modern, beautiful and useful Calendar widgets which you can customize according to your needs. This widget can sync with Google calendar too, so your events in Google calendar will appear on this calendar too.
If you have an Android device which is running on Android 4.2+, then you are good to go with this amazing free home screen widget for Android. This widget is full of features and gives you information about your current local weather, missed calls and unread text messages, calendar events, unread emails and next scheduled alarm.
This widget is basically have multiple widgets in it which can be used for various purposes. It allows you to add small widget icons on your Android's home screen and just for the information let us tell you that you can add up to 7*7 icons per screen.
This widget for android phone is available in more than 12 languages, so you don't have to worry about from where you are downloading it. You can easily change label position/color/size, hide labels.
Shortcut menu in Android is very much helpful for users, but if you can most of the shortcuts on screen, then toggling between them will be more easy. Power Toggle is an advanced power control widget for Android devices, which lets you toggle between different options, right from the home screen of Android.
This app is completely free, and can be downloaded from the Google Play Store itself. Another good thing about Power Toggle home screen widget for Android is that it doesn't show any ads.
If you are an active Twitter user, then you might be interested in knowing about Plume widget for Android devices. Plume is one of the most beautiful, free and completely customization Twitter app which will change the way of using Twitter.
You will need an Android device running on Android 4.2+ to install Plume in it. This widget for Android supports multiple twitter accounts, Facebook timeline & posting, scroll able widgets to display your twitter timeline on your home and many more.
Often forget things that you have to do? Sticky Note+ can help you. As the name says, it is a sticky widget where you can add notes and they will appear on your home screen, reminding you of the work every time you open your mobile phone.
This free widget for Android is among the coolest widget for Android available right now. You can also backup your notes to your phone's sd card or sync your notes to Google Drive.Different kinds of notes background color available to change, make your notes in personalized way.
If you love Minimal design text, then you are going to love this Minimalistic Text widget for Android too. This widget can display various information like time, date, battery and weather information right on the home screen.
It is available in more than 20 languages, so you are not going to face any problem with it. With the latest update, you get Buzz Launcher support with Minimalistic Text widget.
Read Next: Best Wallpapers apps for Android
Conclusion
Android home screen widgets are always good to have, as they are available for various purposes, you can use one to minimize your work. There are some android widgets available out there which can help you in giving new look to your device.
Above mentioned android home screen widgets are top best android widgets 2016, and this list of best android widgets is prepared after analyzing and using these widgets.
Though there are many more android home screen widgets 2016 available out there, and if you know about any other good and helpful android widgets for Android home screen, then do let us know about it via comments below.