Are you bored with your default password system on your windows computer and looking for a new locking method for your Windows PC or Laptop? Then you are absolutely at the right place to get rid of the old default password protection method for your system. Pattern lock is the best thing to get rid of your old way of security system for your windows Computer.
Pattern lock is an all new security system which enables to lock your system by drawing a pattern that means if you want to unlock your system then you need to draw the pattern correctly to gain access to your system and generally we have seen pattern lock in smart phones only, but now you can apply pattern lock on your Windows 7 and windows 8 PC. Lock Hard Drive without Software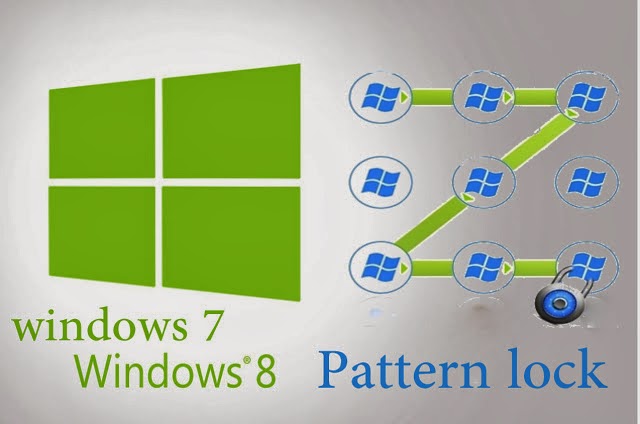 Here we have tested two patterns locking tools on our computers and felt wonderful with the tools. These tools are compatible with windows7, windows8 and windows XP. You don't need to worry about these tools.
Add Pattern Lock on Windows 7/8/8.1/XP
Eusing Maze Lock
Eusing Maje lock is all new software that provides the pattern lock feature for your windows pc or laptop similar to touch screen smart phones or tablets. It is a totally free to use software that lets you lock your pc with your own customized pattern. Now follow the below installation guide.
After downloading, just simply install it on your system.
After complete installation it will provide you with a default pattern lock that is in the form of Z.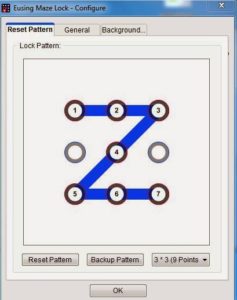 Now click on the reset pattern and then draw your own unlock pattern by connecting the dots together.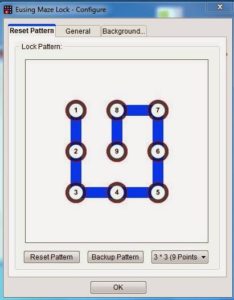 Features of Eusing Maje Lock:
Compatible with Windows XP, Windows 7 and Windows 8.
3 different patterns are available – 3×3 / 4×4 / 5×5
You can enable or disable the auto lock on windows startup.
You can set Alarm when there are incorrect login attempts on your computer.
You can set a transparent window or a default window.
100% Spyware and Virus free application.
You can back up pattern feature in image format.
XUS PC Lock
XUS PC lock is very similar to Eusing maje lock and have same feature. But it is not available for free, but still you can try it in trial mode before purchasing it. Get XUS PC Lock for windows from here.
Download and Install XUS PC Lock from here
Features of XUS PC Lock:
Compatible with Windows XP, Windows 7 and Windows 8.
Have 3 built-in patterns: 3×3, 4×4, 5×5 you can choice.
Locking and Unlocking animation effect.
Set a timer to turn off monitor automatically.
Set the auto lock on windows startup.
Available in Trial mode (20$ for Full Version).
Also check:  Forgot Pattern Lock in Android |How to unlock or Reset?
Conclusion
Both the above listed apps are quite good to use. Eusing maje lock is available for free whereas XUS PC Lock is a paid application but both the application providing the best security for your computer with a simple and easy to use Interface. So if you are tired of the old default password setting method and trying to get rid of this, you can simply use anyone of the above listed tools and secure your computer.
Hope you like this, if you face any problem while using these software then feel free to ask in your comment we'll get back to you with a solution.