Bluestacks is one of the best and free android emulator has become so popular these days. It is specially developed to use android apps and games on PC and Mac. Its becomes so popular because most of non Android phone users use it on desktop and laptop to access several android apps like WhatsApp, Kik Messenger  even we can install dubsmash on pc etc and also play android games such candy crash, Subway surfers etc.
But WhatsApp is found to be the most used android app in bluestacks and its works without any error as far as our system is compatible to run Bluesatcks. But if your system is not compaitable with bluestacks latest version then use bluestacks older version to solve Bluestacks Error and you can use WhatsApp on the bluestacks older without any issue.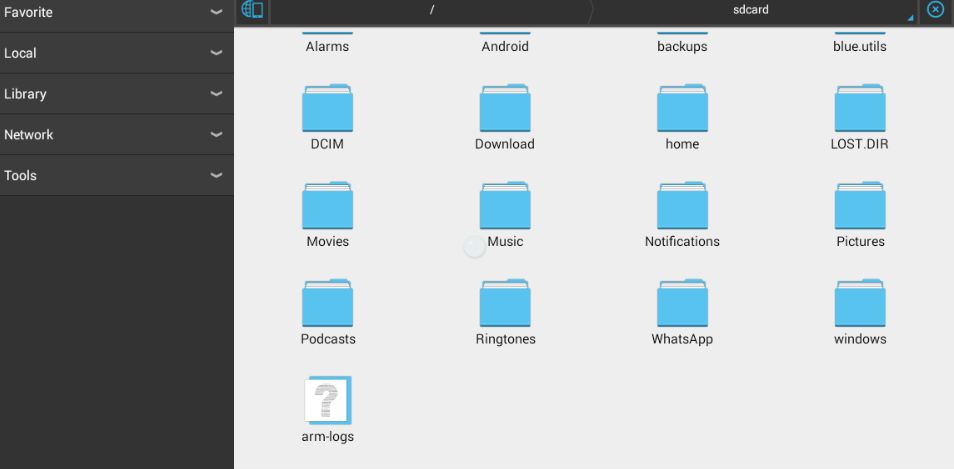 But the only problem user faced in using WhatsApps on Bluestacks is that they can't access shared image and videos directly. But now you can access those image and videos, today you'll learn how to access bluestacks WhatsApp image and video folder location.
Steps to Access Bluestacks WhatsApp Image and Video folder Location
You can access WhatsApp Image and Video folder on Bluestacks either by using Es File Explorar or QuickPic and here we will discuss two methods for you.
By Using ES File Explorer
First of all you need to download and install ES File Explorer on bluestacks app player, its one of the best free file manager for android. You can download Es File Explorer either by searching on bluestacks or download Es File Explorer APK file from internet and install it on bluestacks.
Now Run ES File Explorer on bluestacks app player and search and locate folder named WhatsApp.
Select the WhatsApp folder and click on copy.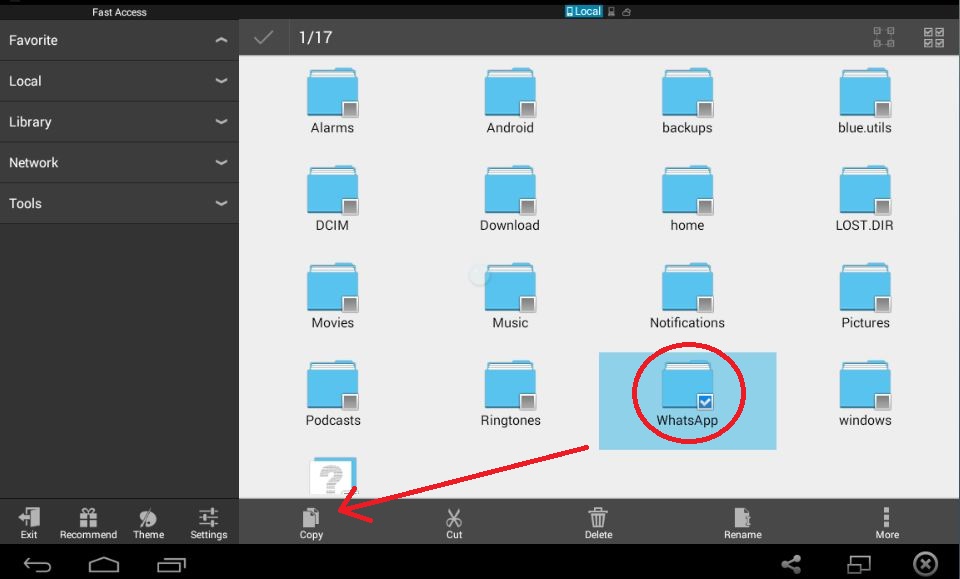 Now double click on Windows Folder and open BstSharedFolder and under this folder paste the WhatsApp folder that you have copied in above step.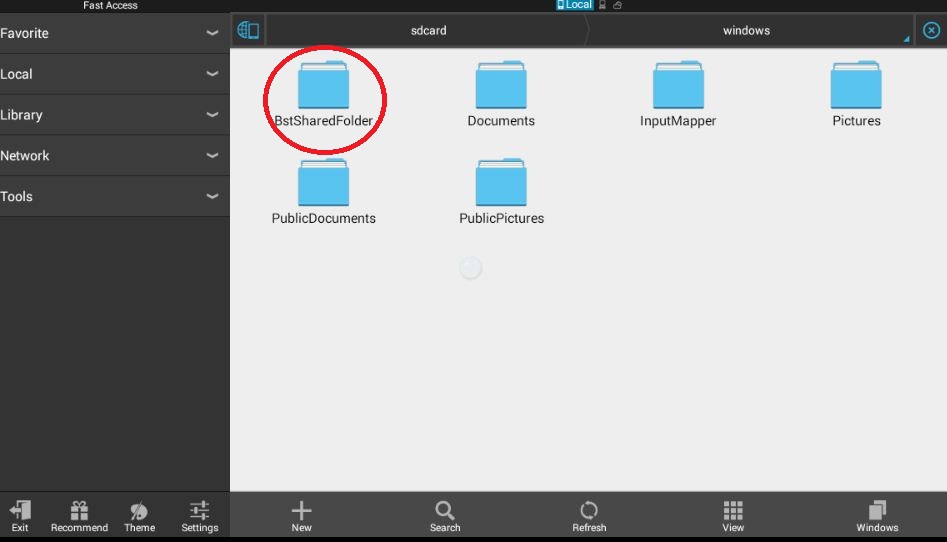 Now close Blustacks app player and go to C:ProgramDataBluestacksUserDataSharedFolder and here you'll see the whole WhatsApp fodder and you can access all Audio, images and videos shared on WhatsApp.
By Using QuickPic
First of all install QuickPic on bluestacks either by searching on bluestacks or downloading APK file of QuickPic.
Now Go to C:UsersPublicPicturesSample Pictures and here you'll see you all downloaded media in this folder. But if you can't find anything then wait few minutes and restart your bluestacks and your media will be appearing on that folder.
Run QuickPic on bluestacks and select all the media that you want to download or upload.
Now at top of the right corner click on the wrench like icon and select Copy to.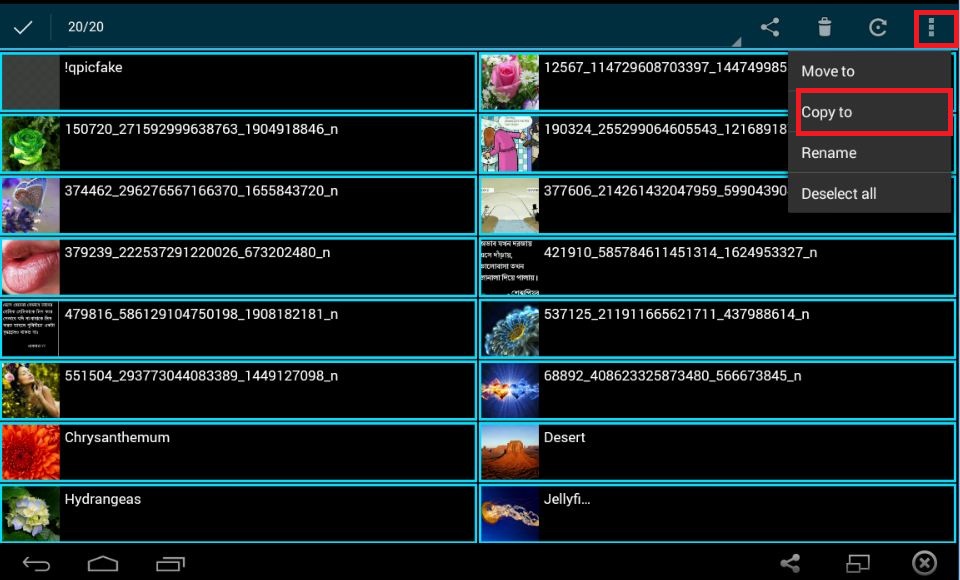 Click on the + sign from top right side and select windows >> PublicPicture >> SamplePicture and click on OK.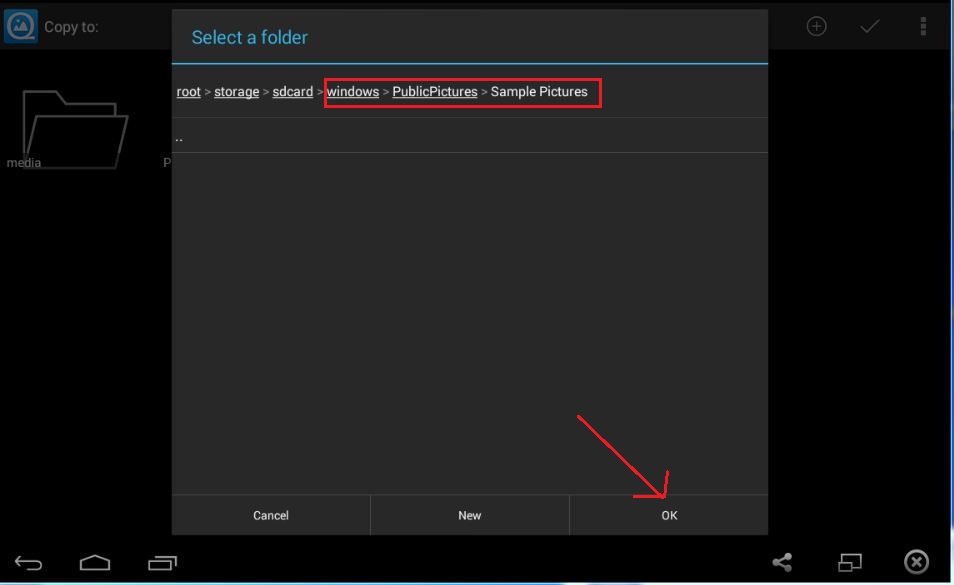 Close Bluestacks and go to C:UsersPublicPicturesSample Pictures and here you will see all your shared data.
That's all. By using one of above method you can access all your shared media like audio, video and images of whatsapp.
Was this article helpful? If yes, then share it with your friends. If you faced any problem or if you confused at any step then just leave a comment and we'll try to solve your issue ASAP.