Snapchat is one of the most popular instant messaging and social networking mobile app around the world but how to save photos and videos from snapchat in android. There are billions of people out there who uses Snapchat regularly, and this app is well known for it's "Filters Feature" which allows you to apply filters to your photos in real time.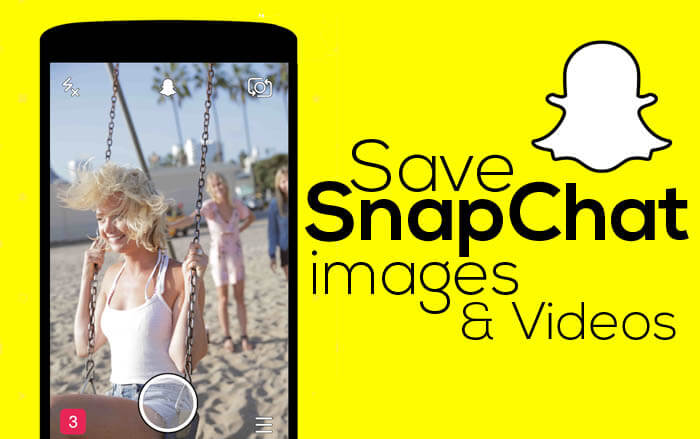 Another good thing about Snapchat is that you can also send photos, videos and even text messages to your contacts that are on Snapchat. One more thing which makes Snapchat unique and different from similar other social networking apps is that messages you have sent with expires after a short time or after the recipient has viewed it. In this way you can ensure maximum security over your conversation, and you don't run out of mobile space too.
But that's not a thing to brag about, as there are so many Snapchat downloader apps for Android and iOS device available over the internet which allows you to save Snapchat photos, videos and stories on your device.
Here in this post I am going to tell you about best apps to save Snapchat photos, videos and stories on Android and iOS devices. You can use below mentioned apps to save Snapchat videos on Android, including photos and you can also use them to save Snapchat photos on iOS including videos.
Do note that Snapchat officially doesn't allow anyone to download Snapchat photos, videos or other stories, but third-party apps can do that for you. There are also some ways available to save Snapchats without the sender knowing and here we are going to share them too.
Save Snapchat Photos and Videos On Android/iPhone
Save Snapchat Photos in Flight Mode (Sender Doesn't Know)
If you are thinking to take a snapshot of the photo and save it to your device storage, then do remember that Snapchat sends a notification to the sender whenever someone snapshots their chat. Yes, Snapchat do this and if you are not worried about sender being alerted, then you can take snapshots and download Snapchat photos on Android/iPhone.
One more thing to note about it here is that you can only save photos using this method and it will not work if you want to download Snapchat videos. So if you want to save Snapchat videos and photos without letting the sender know about it, then follow the steps mentioned below:
First of all open Snapchat, but don't open the Snap you want to download.
Now minimize Snapchat app and turn Airplane mode/flight mode ON of your device. If you are using iOS device, then you have to swipe from bottom to bring control panel, and in Android devices, swipe from above.
Now when your device is in Airplane mode, all of its networking and communication features will stop working. So open Snapchat app again which you have minimized.
Now on the Snapchat inbox screen, open the Snap that you want to save. Take a screenshot of the snap before the timer expires.
Once you have taken screenshot of the Snap you want to download, log out of your Snapchat account.
If you don't know how to log out of Snapchat app, then open camera (home) screen on Snapchat and click on the Ghost icon which will be at top of the screen. Now you will be taken to Snapchat settings where you have to click on Gear icon and scroll down till you see Log Out option, click on it and you will be logged out.
Now close the Snapchat app and turn off airplane/flight mode and open Snapchat app again. Now you can see that the Snap of which you have taken screenshot is still unopened and sender will not get notified about it too.
Do note that some iPhone users who have tried to download Snapchat photos/videos in iPhone have reported that this method is not working in iPhone 6S, though for many it is working.
Best Apps To Save Snapchat Photos/Videos/Stories On iOS/Android
SnapBox –SnapBox is one of the most popular and best iOS app to download Snapchat photos and videos in iPhone. All you have to do is to download this app from iTunes store, and whenever you get a new snap in Snapshot, just open SnapBox app and login with your Snapchat username and password. Once logged in, this app will help you in saving all your snaps into your device storage.
GhostSave Snapchat Screenshots –GhostSave app is designed for Android snapchat users who want to download Snapchat photos on Android and if you are using a rooted android device, then you can use this app to download Snapchat videos in Android too.
Once installed, a ghost button will appear on your screen, and you just have to click on it to take screenshot. Single Press will take screenshot by which you can save Snapchat photos, and Long Press ghost button will save Snapchat videos in Android but it must be rooted.
Save Snapchat Photos & Videos Using Apps
Before some time there were several apps which allowed users to save Snaps in their devices, but because of new updates none of these apps are working now. But there are some apps available out there which are not built specifically to download Snapchat photos and videos, but you can use them to do so.
Yes, as we know that Snapchat sends notification to the sender whenever someone takes screenshot of their messages, so instead of using Screenshot feature of your device, why not to use a app that can record whole screen?
AZ Screen Recorder is one of the best screen recording app for Android available right now. The best thing about this app is that it allows you to record your whole screen with audio and doesn't lag while recording. You don't even need a rooted android device to record your screen with it.
You can use this app to save Snapchat videos on Android, along with photos. Run this app, and then open Snapchat story you want to download and then close this app and cut out the part out of the video which you want to save.
Conclusion
Snapchat is definitely a great social networking app to have, and you can use to it kill boredom. They update their filters sometimes, so you can get some new kind of funny images.
Though there are many more similar apps to save Snapchat on Android/iPhone are available out there, but still I will recommend you to try methods mentioned above to download Snapchat photos/videos on your mobile device.
If you know about any other good Snapchat photos and videos downloader apps for iPhone and Android or any other way in which a user can easily download Snapchats for free, then do let us know about them.