iOS devices like iPhone and iPad faces Wi-Fi network connection problems a lot. In the latest version of iOS, Apple tried to fix WiFi connectivity problems with iPhone and iPad, but still there are many people out there who are facing iPhone, iPad won't connect to Wi-Fi network problems.
There are many reasons behind this problem, and one can't easily identify it without looking at the device. iPhone users can use mobile data for internet in their device and there are many more things which you can do with iPhone without Wi-Fi, but if you are using iPad, then you need an active Wi-Fi internet connection to make more than half of its apps to work.
If you are going to connect a Wifi network, then you must be sure that the connection is stable Wi-Fi network with good speed and stability. Still, if you are facing iPhone or iPad can't connect to WiFi problems, then you can troubleshoot and fix Wi-Fi network connection problem in iPhone, iPad.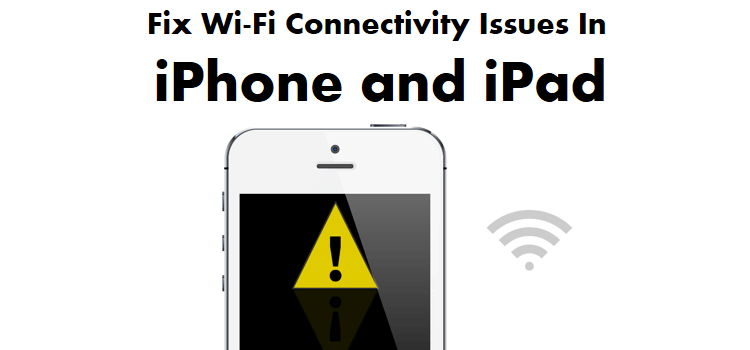 Most of the times it's easy to fix the problem, but sometimes you may need help from a professional. Whatever is your problem, if you are looking for ways to fix WiFi connection problem in iPhone and iPhone, then you have landed on the correct page. Here in this post we are going to tell you about some of the best ways to fix WiFi connection problem in iPhone and iPad easily.
Fix WiFi Connection Problems In iPhone/iPad Fixes 2016
Check Password and Wi-Fi Strength
If you are not able to connect to your wifi network using your iPhone or iPad, then without looking for a technician or solutions, you should try entering password one more time. Do note that some Wi-Fi router passwords are case-sensitive, so if your iPhone won't connect to wifi properly, then try entering password one more time and you can use Show Password option while typing it so that you can have a look a typed password.
Along with it, you should also be in good range of Wi-Fi. Most of the Wi-Fi router strength gets low if there are walls between you. If you iPad is not connecting to wifi, or you are facing this problem with iPhone, then move closer to the router and try connecting them one more time.
Restart/Reboot iPad/iPhone To Fix WiFi Connectivity Problems
Most of the major smartphone connectivity and lagging issues can be solved by restarting or rebooting them. You can do similar thing in case your are not able to connect iPhone/iPad with wifi. Restarting an iPhone or iPad is simple, and almost everyone can do that, but still you can read out below steps to restart iPhone to fix wifi connectivity problems. Do note that sometimes device won't restart as usual, and you will have to force reboot it.
If you want to restart iPhone or iPad, then keep on pressing the Sleep/Wake button until the red slider appears on the screen.
Slider will ask you to drag it towards right side to make your device turn off.
Once your iPhone/iPad is turned off, you can press and hold the Sleep/Wake button again until you see the Apple logo.
Once your device is restarted, you can try connecting the same wifi network and hopefully this time it will connect.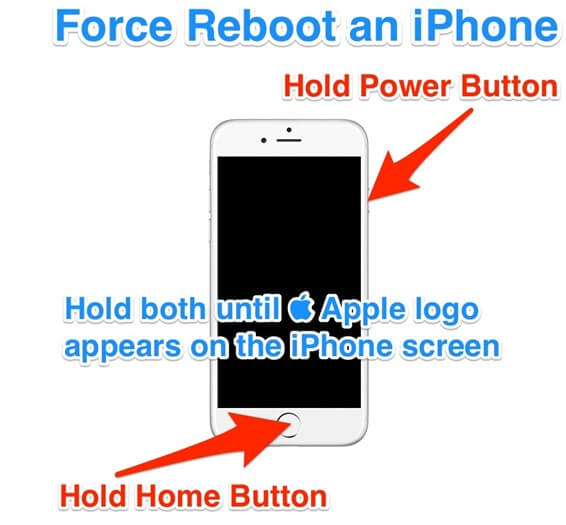 Renew The Lease (Fix iPad Can't Connect To Wi-Fi)
If you are using an iPad, then you might already know that it saves, or 'leases' IP address of a network for a specific period of time and it may cause problems in connecting wifi with iPad. The best thing about this feature is that you can easily renew IP address, by clicking on the Renew Lease button in settings menu. If your iPad won't connect to wifi, then you can follow steps mentioned below to fix this issue by renewing lease.
Open Settings of your iPad, and then go to Wi-Fi settings.
In Wi-Fi settings, choose which network you want to connect with and click on the blue arrow at the right side of the screen.
Now you will be taken to information page of Wifi network, and here you have to click on Renew Lease button and select Renew.
Now restart your iPad and you won't face iPad wifi connection failure problem.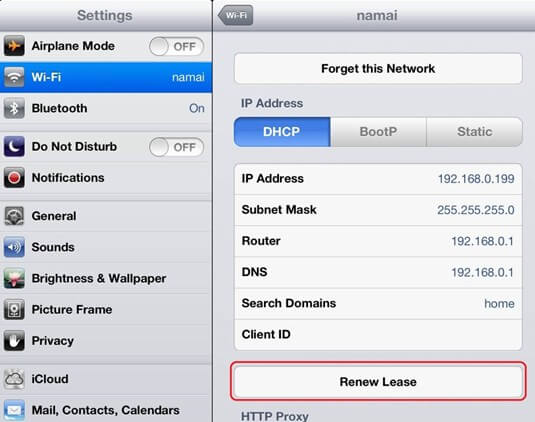 Forget and Re-join Wi-Fi Network
If none of the above mentioned methods are working for you, then you should definitely try fully forgetting the network and re-joining it to fix wifi connectivity problems in iPad/iPhone. To forget and re-join wifi network on iPhone and iPad you can follow the steps mentioned below:
First of all open Settings of your device, and then go to Wi-Fi Settings.
From there, look for your Wi-Fi network and select it.
You will then be taken to a new window with some configurations in it. Just click on the Forget this Network button at the top and your device will forget this network.
Once done, just make a search of W fi-Fi network and re-join it by typing password. You can also change IP address to static and make both of the device using same gateway.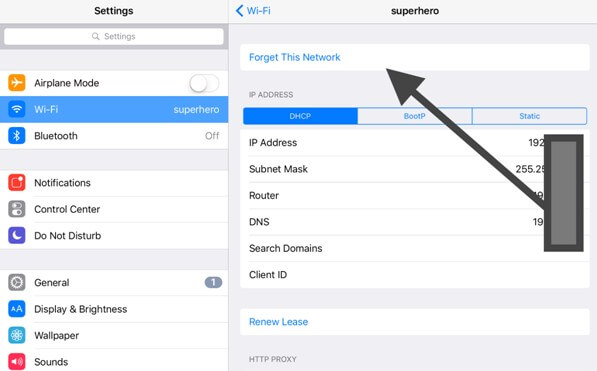 Reset Network Settings & Change Network Name
Though network name doesn't have any relation with the connectivity, but just because of some rare circumstances it can cause problems with wifi connectivity. You can try reseting all network settings of your iPhone or iPad and try reconnecting the network again. Doing so will clear all Network information from your device. Do note that once you have cleared your network settings, all saved Wi-Fi passwords will be lost. We are recommending you this method because many iPhone and iPad users out there have told that doing this have solved Wi-Fi 8.0 problems.
Go to Settings.
Click on General Settings.
Then go to Reset.
Click on Reset Network Settings.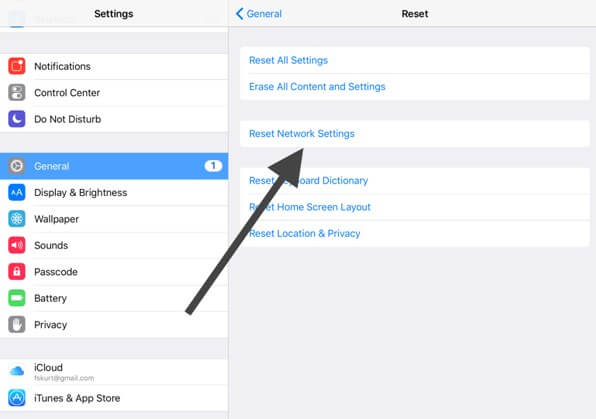 Update Software To Fix iPhone/iPad Won't Connect to Wireless Network
We hope that above mentioned ways will work for you and your iPhone/iPad started working normally with your Wi-Fi network, but still if you are facing the problem, then you can try upgrading your iOS software to ensure that the latest features and drivers are installed in your device. To update software of iPad and iPhone you have to visit settings of your device, and scroll down till you see System Updates options.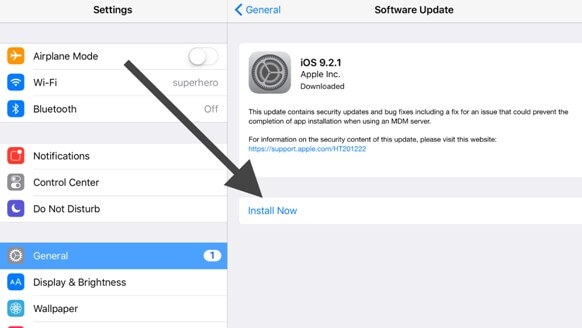 Conclusion
Though Apple products are very trustworthy and they encounter error only sometimes, but WiFi connection problem in iPad/iPhone/iPod are normal, and needs to be fixed to make the device work properly.
Most of the times Wi-Fi problems on iPhone and iPad can be fixed easily, while sometimes they can be caused by a bigger problem. By following the steps mentioned above, you can easily fix "iPhone and iPad won't connect to WiFi"problems.
If you have fixed iPhone WiFi connectivity problems or one with iPad, then do let us know about the solutions that worked for you. We would like to add them to this of ways to fix WiFi connection problems in iPhone and iPad.