On Internet lots of software and games are available in trial mode, means they offers 15 day or 30 day evolution period for user testing.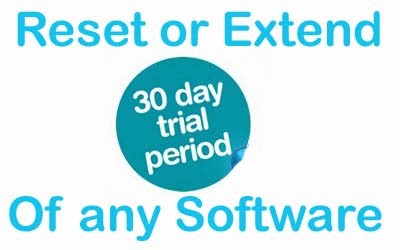 After the trial period is expired you need to enter a serial number to continue using the software and that is hard to find a serial numbers for free and in this situation you need to buy a serial key to continue using the software.
But most of the times we cannot afford to buy the license key because of high price and you are not able to use your favorite software or games.
But don't get upset there is some way to extend or reset trial period of any software and today in this article we are going to describe how to extend or reset trial period of any software.
With this tricks you can use your favorite software or games forever without expired. Now follow the below methods.
Steps to Reset or Extend trial Period of any Software
Delete Registry to Extend Trial Period
In this method you need to find and delete your trial software registry. After trial period is expired, uninstall the software and follow the steps.
After uninstalling software, Open RUN (Windows key + R) and type regedit and hit Enter.
Now Registry Editor Window will appear and here navigate to HKEY_LOCAL_MACHINE SOFTWARE Your Software name from left pane of this window. If you find any Key name with your software name then just Delete that Key.
Similarly navigate to HKEY_CURRENT_USER Software Your Software name and if you find any key with your software name then just Delete it and close the Registry Editor window.
Again go to RUN and type %temp% and hit Enter.
Now Delete all the things in that folder. Don't worry these are the temporary files and not necessary for your operating system.
Now go to C:Usersyour username hereAppData. Under AppData open all three folders "Local", "LocalLow" and "Roaming" and check. Under these three folders if you find any folder or anything with your Software's name, just delete it.
Now Restart your PC and install the expired software and you can use it again for trial period. If you install the expired software without following the above steps then you don't get trial period back.
Note: Its always recommended to take backup windows registry before doing anything on windows registry, because if anything goes wrong then you can restore those registry
Also check: How to solve windows explorer has stopped working
Reset Trial Period Using Time Stopper Software
Time Stopper is a popular software which has been created exactly for the Stopping the time of trial software. If the trial period has already ended then the Time Stopper is not able to reverse the trial mode of the software.
Time Stopper only can stop the trial time when it is used. Using Time Stopper is quite easy just follow the steps.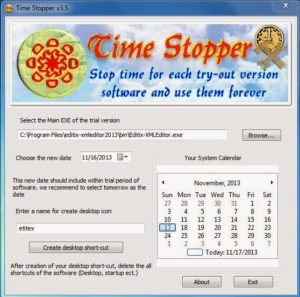 First of all Download Time Stopper and install it on your computer.
Now run Time Stopper and click on browse and find exe file your software from program file.
In the Choose the new date option set the date as your wish. You can choose tomorrow as the date.
Now enter your software name and then click on Create desktop short-cut and use this shortcut to open the trial version software.
Note: After patching the trial software by using Time Stopper then you must always use the desktop shortcut which created by Time Stopper to open that software otherwise the trial will end instantly.
So delete the old shortcut from desktop or from start menu which is created earlier during installation of the trial software.
Extend Trial Period Using RunAsDate software
RunAsDate is very similar small utility to Time Stopper which allows you to run a program in the date and time that you specify. It's a portable program so you don't need to install it.
This utility doesn't change the current system date and time of your computer, it only injects the date/time that you specify into the desired application.
Another advantage of this program is that, you can run multiple applications simultaneously, each application works with different date and time, while the real date/time of your system continues to run normally. Now follow the steps to use RunAsDate.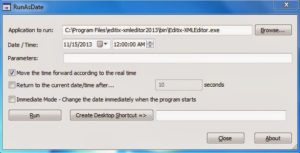 First of all Download RunAsDate and extract it in a new folder.
Now click on browse to browse the desired application path.
Now Specify date and time and hit the Run button to execute the app on the specified date and time. You can also create a desktop shortcut to open the trial software.
After running the software using RunAsDate, don't run it directly. If runs it directly without RunAsDate then trial period is ended instantly.
To avoid any chances of running the software program directly, you can delete its shortcut from the desktop and create a new shortcut using RunAsDate and place it on the desktop.
Conclusion
The above methods will not be able to get you complete version of the software. If you use trial version of the software with limitation, then this methods will help you to extend or reset the trial period of the software we are suggesting these ways only for people who want to evaluate the software for more than its default trial period and then buy the software.
It is always recommended to buy the software if you like it because it will help the developers keep the software up to date!