Who doesn't know about Google,We don't think there is anyone out there who don't have information about Google. Yeah, Google helps many people in finding what they are looking for, and no doubt, it is one of the best search engine currently available.
There are a lot more things which you can do with Google, like Image search of Google allows you to search for images from millions of websites. Do you know that Google indexes 60 trillion individual webpages? Moreover you can use Google Maps to find a place, get directions, estimate reaching time and much more.
But when it comes to a service, there are many things which remains hidden, until someone reveals or find it. Yes, we are talking about some cool things which you can do with Google, and you still don't know about them.
So here in this post we are going to list down some funny things you can do on Google Search. You can also call them as coolest hidden Google tricks 2015 which will surly blow your mind. So, let's get started.
Unknown Tricks And Things Google Search Can Do
Play PAC-MAN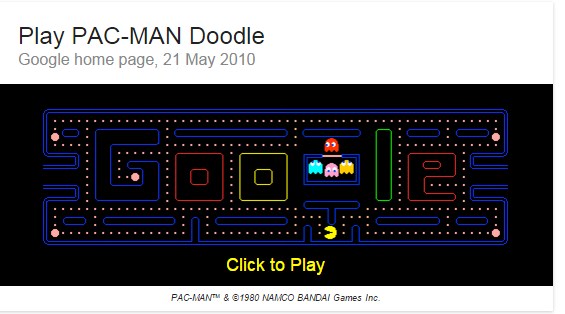 If you are a Pac-Man game lover like me, then we have another reason why you should love Google. Though Pacman is available for free download on the sites out there for almost all kind of devices, but sometimes you don't want to download anything and instead looking for some games that can be played online without registration and sign up, then you can use Google to play Pacman. All you have to do is to type PACMAN in Google Search box, and hit enter. On the results display page, first result will be Pacman game itself. There will be a white text Click To Play, just click on it and your Pacman game will begin in a new pop-up window.
Play Zerg Rush On Google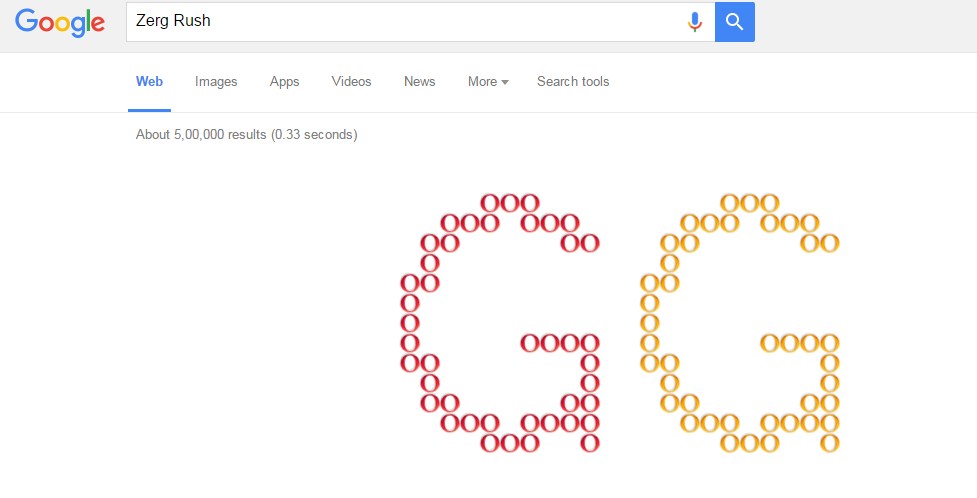 Another awesome thing you can do with Google is by typing Zerg Rush in the search box, as soon as you will click on search button, all of the results of Google will be eaten by O's of the Google. Yeah, that's a funny game that you can play on internet using Google for free. As soon as you see that your results are being destroyed by O's, you have to click multiple times on each of them to destroy them. Below is a screenshot of my score. Just one advice for you – Don't forget to look below when they started destroying your search results page.
Pronounce Big Numbers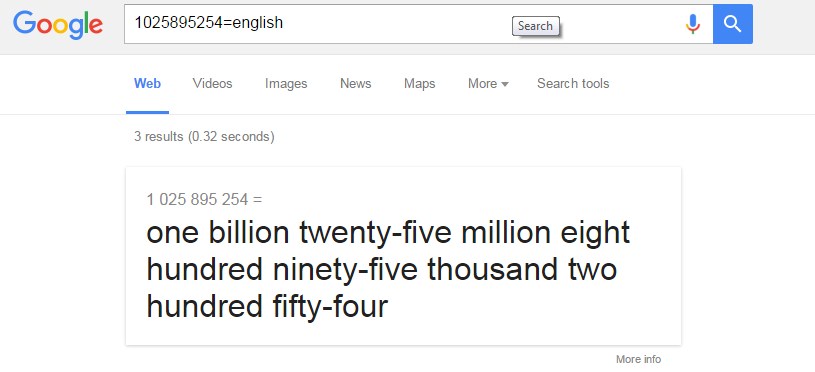 So you have got a really big number and you don't even know how to pronounce it, don't worry you can Google it, but not in the same way like you do always. Yes, I am not talking about searching a number in Google with prefix How To Pronounce. This ain'tgonna work with numbers most of the time. When you are struck, you can use a special feature of Google to make it pronounce big numbers for you. If you want to pronounce any big number then just write the figure in Google Search Box and add equals symbol (=) just after that and write the language in which you want it to be pronounced. For example see Above image. Do remember that this trick works for up to 13 digits only.
Currency Conversion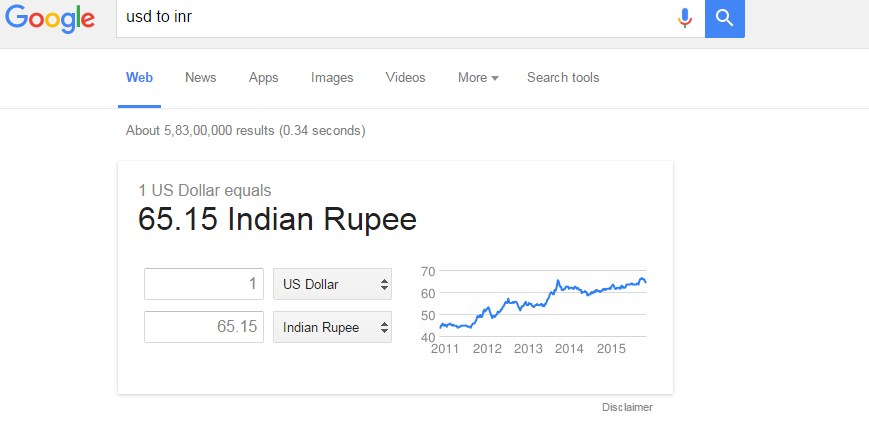 There are many currency convertors out there, but most of them update the value after 12 AM. So if you are really in need of current currency conversion rates, then you can use Google to do that. All you have to do is to type the amount of the currency you want to convert, then its name, then TO and in the last write the name of the currency in which you want to convert it too.
Language Translation

Language conversion is the most important and useful thing which Google offers for free to all of its users around the world. If you are struck somewhere and want to translate a specific language to another, then you can use Google Translator to do it in real time. If you want to convert language, then you have to search it in Google first like, suppose if you want to translate Good Morning from English to French, then you have to search English To French in Google first. A translator box will appear on your screen, then type your required word or sentence in your language and in the real time Google will translate it to other language.
More Cool Things You Can Do With Google Search
Works As A Timer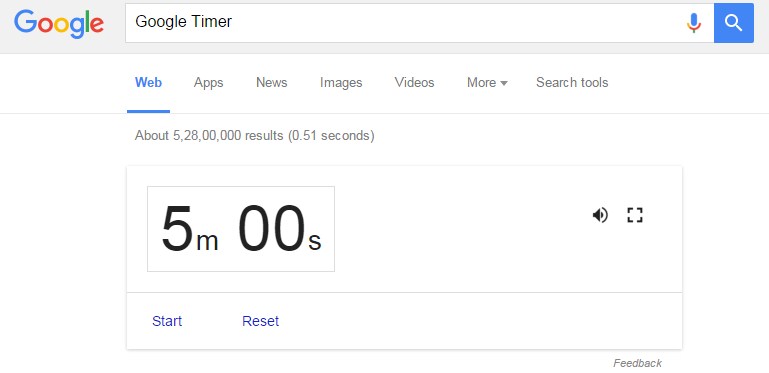 Don't have a timer, still want to use it? Don't worry Google will help you. Just search Google Timer and timer will be displayed on your screen.
Sunrise & Sunset Timings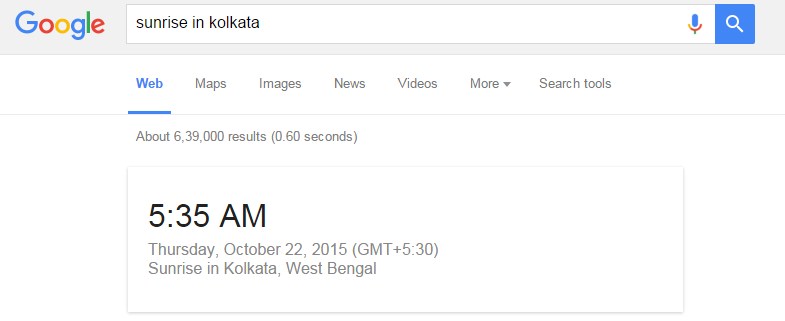 If you want to know about the Sunrise & Sunset Timings of your city, then instead of using weather forecasting or weather monitoring services use Google. Simply type sunrise in or sunset in with your city name and search.
Weather Forecast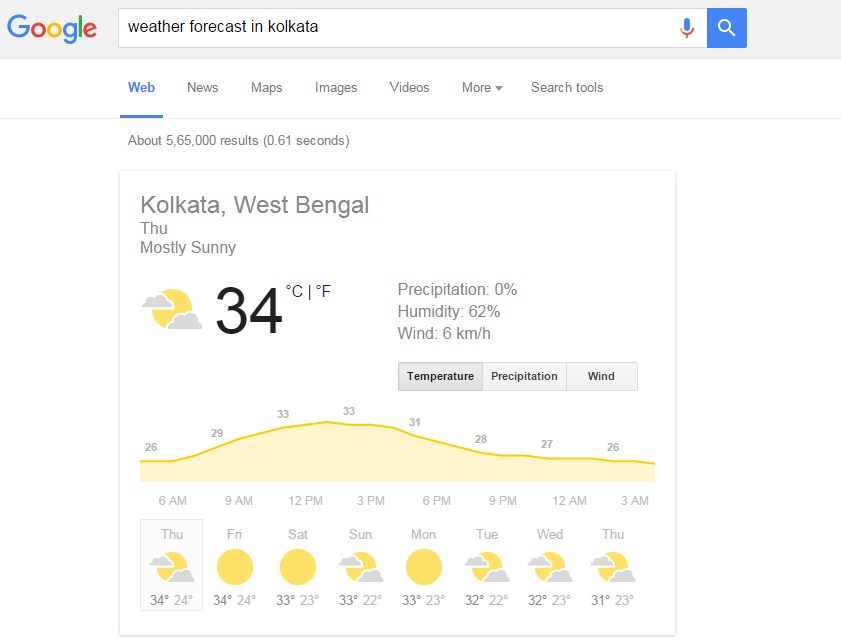 There is an option in Google which allows you to check weather forecast without opening any further link. Just type your city name and add forecast next to it. Search it and you will get information about weather forecast of your city.
Check Flight Status
If anyone from your family member is travelling by air or you are going to pick someone from the airport, then you can get information about the flight status right on Google. To use this feature you need to enter the flight name in search box of Google and it will display status related to it.
Find Services Nearby
If you are feeling hungry and continuously looking for food delivery services in your area, but still unable to find one, then Google can help you in finding it. This is a unique feature which is still unknown to many people out there. You have to search PIZZA and then your area PIN CODE, that's it. Moreover you can also use it to search for many other things like Grocery, takeout foods, restaurants by cuisine, bars etc.
View and Play All The Old Doodles
Ever wondered what is the use of "I'm feeling lucky" button on Google? Here is the answer. Without typing anything in the search box, just click on "I'm feeling lucky" button and wait for the page to load. This button takes you to a Google's page, where you can find all old Doodles.
Conclusion
These were some cool things that Google search can do for you. We hope you have liked the post and got what you were searching for. These were top funny Google tricks 2015 post and we are sure that you are happy with these lesser known things that Google can do.
Things mentioned above are only few things google can do you didn't know about. There are a lot more cool things you can do with google. If you know about any other unknown Google trick, then do let us know about it via comments below.