When you have first bought your android phone, you was really enjoying its blazing fast speed, right? You were enjoying the smooth running and lag free gaming, watching videos and doing multi-tasking. With the time passes by, it's becoming slow? I know it happens with most of the android users.
I know it becomes a frustrating situation in which you have to wait for few seconds to launch any application or your phone struck in between a game which you were enjoying with the true heart. Top Best VPN for Android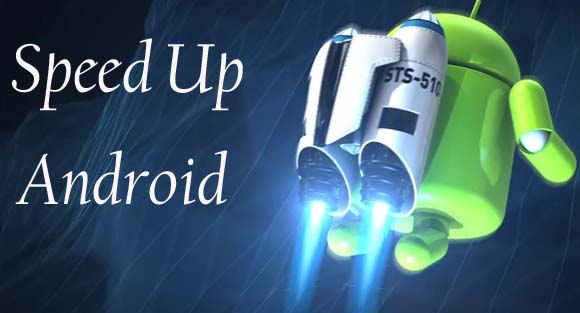 There are many reasons why android becomes slow after some time, and believe me, it is really easy to revert back. Here in this post I am going to tell you some ways, by which you can increase the speed of your android smartphones and tablets.
How To Speed Up Android Smartphone/Tablets
Uninstalling The Apps Works Best
It doesn't matter if you are using a dual-core or quad core device, your phone have 512MB or 3GB of RAM in it, if you have too many apps installed in it, it will become slow. Installing so many applications in phone, consumes storage and well as CPU usage too, resulting in making the device slow.
If you want to speed up your android smartphone or tablet, then the first thing you should do is to uninstall all those apps, which you don't use often. There are many inbuilt apps in android devices, which consumes memory and they can't be uninstalled.
To know which apps you can uninstall head over to device settings and find a menu named App "manager" and then tap on Downloaded section to view the list of those apps, which you have downloaded. Now simple click on any of the app, and select uninstall.
Running Out of Space
Another reason why your android device is slow can be the shortage or storage. All those photos and videos you have taken and apps you have installed eats memory of your device, and gives only few space to let it breathe. To check how much storage is left on the phone, you can head over to the Storage section of Settings.
The first thing you can do to free up the storage is already explained above. I.e. Uninstalling Applications. Another thing you can do is to clear cache files. When you uninstall any application, and after the successful removal, some files still remains in your device, which are called cache files.
To free up this space, hit the Cached data option and then tap OK to confirm. You can also use some apps to automate this process. There is an app named App Cache Cleaner, which is best in this business. Also you can use these best Android Cleaner and Optimizer App to clean and optimize your device
Do You Really Need Widgets
Althoughall those widgets you are running on your android smartphone's screen are useful, but ask yourself, do you really need all of them? They consumes so much of your device memory you can't think about. If you have any widgets running that you don't really need, consider disabling them. There is no harm in running them, but be selective, running so many of them may slow down your device.
The Basics
There are some basic things which you can perform to speed up android smartphone or tablet. Such as using low graphical wallpaper.
There are some live wallpapers included in each android device, using them consumes RAM and makes your device slow.
Depending on the launcher you are using, you may find that there are various animations and special effects in place. These may look great, but they can also slow things down.
If you are a multi-tasker, then there might be so many apps running in your phone at the same time, try closing some of them. Apps running in background also consumes memory.
Another thing you can try is to restart your device. Restarting it might clear the cache, stop unnecessary tasks from running, and get things running smoothly again.
Read Next: HotStar Live App for PC 
Conclusion
Android operating system is one of the most used mobile operating system in the world. It's open, fast and flexible. Many big mobile manufacturers also use android in their flagship devices. I have seen many people saying that they have bought a new android phone few months back, and it is hanging now, they can't open multiple apps once at a time in it.
The methods mentioned above will actually help you to make your android mobile faster, as it was before, when you have used it for the first time. So this is it from my side in this post. I hope you have got, what you were searching for. Do let me know your views on this post via comments below.