As we know

Microsoft

windows is an awesome operating system either its windows 7, windows 8 or windows XP and almost every one aware about it. But now Microsoft has started bugging the non-genuine and pirated version of windows users.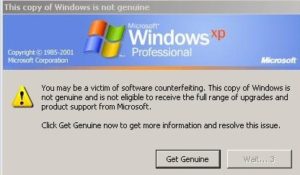 This problem is basically found at windows XP but these day also its appears on Windows 7 and Windows 8. This popup start coming back again after some time interval and it's not good feel for you.
So if you ever face this problem then don't worry about it because today in this article we will give you a permanent solution to fix You may be a victim of software counterfeiting. This copy of windows is not genuine notification.
Before doing anything t if you believe that your copy of windows is genuine then try to restore your system. If this problem occurring after windows updates then System Restores may solve this problem. Fix Windows was unable to complete the format
Steps To Remove You May Be a Victim Of Software Counterfeiting
If System Restore does not solve the problem then follow the below steps to remove You may be the victim of software counterfeiting popup.
Open Task Manager by pressing Ctrl + Shift + Esc.
Now switch to Process tab and locate the process wgatray.exe and select it and then click on End Process.
Now restart your PC and login into safe mood by pressing F8 continuously before boot screen is appearing.
After that go to the path C:windowssystem 32 and find Wgatray.exe and Delete it. Also delete wgatray.exe from C:windowssystem 32dilcache.
Note: dilcache is a hidden folder so you need to unhidden it before delete wgatray.exe. To view hidden folders go to Start >> Control Panel >> Folder Option. Now select the view tab and under the hidden file option select show hidden files and folders.
Now open Registry Editor. To open registry editor open Run and type regedit and Hit Enter.
In the Registry Editor navigate to HKEY_Local_Machine >>Software >> Microsoft/  WindowsNT >> CurrentVersion >> Winlogon >> Notify.
Before Doing anything with registry its always recommended to take a backup of your current registry because if anything goes wrong then you can restore your registry
Now Delete the folder Wgalogon and all of its content.

After that close Registry Editor and restart your PC into normal mode.

That's all and you are free from You may be a victim of software counterfeiting. This copy of windows is not genuine popup.
If the above mentioned method does not works for you  or if you are afraid to puts your hands on your windows registry then there is a tool for you called RemoveWGA. 
RemoveWGA  is a small tool that can remove intentionally deployed windows genuine notification and with this tool you can fix software counterfeiting error on Windows OS. So search for RemoveWGA tool on Google and try it.
Conclusion
The above method works for many windows user to remove You may be a victim of software counterfeiting. This copy of windows is not genuine popup. This method does not encourage any type of hacking and we are never encouraging piracy.
So always try to buying a genuine copy of windows, it will help developers to keep update their product. Tell us if this method works for you or not in your comment.