Wi-Fi is the way to connect to the internet and surf the web even we can do the same with data connection on our mobile or pc but the best part of the Wi-Fi is we can share our data with our friends, family members or even neighbors.
From one Wi-Fi device we can connect many devices and use them at a time. Each and every Wi-Fi device has some own id or Wi-Fi name it can be default device name or customize name like owner name or some other funny Wi-Fi names.
Sometimes we noticed some cool cleaver hilarious and funny Wi-Fi names and these are done by some amazing people.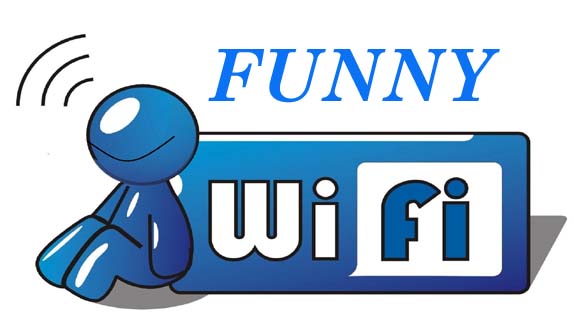 Some creative peoples make their Wi-Fi name funny or hilarious to shock the neighbor or friends who try to get access that Wi-Fi.
Have you noticed any funny Wi-Fi names or hilarious cleaver Wi-Fi names?  If you noticed then you was amused right.
Do you want to change your Wi-Fi name to a funny Wi-Fi name and looking for some funny Wi-Fi names idea for your WiFi Hotspot then don't worry we are here to help you.
We've collected some cool cleaver hilarious funny Wi-Fi names from the internet and sharing with you. Now choose any Wi-Fi name from the list and use it as your Wi-Fi name.
Cool Cleaver Hilarious Funny Wi-Fi Names
404 Network Unavailable
One Does not simple connect to Wi-Fi
Virus Infected WiFi
Go Home Tourists
Grow up Kid
Don't Try To Connect
No Free Internet Here
This is not free either
No net 4U
You kids get off my LAN
Error 404 Wifi not found
Hack if you can
Mom click here for the internet
NSA Surveillance Van 007
I'm cheating on my wifi
Don't touch me
Protected cex
Click here to inject virus
Get lost no free wifi
Wifi connection failed
Click here to disconnect
Hacking your pc
Device not recognize
No device found
I've seen you naked
Searching for device
You pay now
Ask your dad to pay bill
You can't see me
Virus distribution center
It burns when ip
Lan of milk and honey
Free cex
Keep it on the download
Loading
Unprotected cex
Hey don't use my internet
Hang on
First time cex
Who the hell are you
Sorry for loud cex
Connection is about to lost
Connection
Unsecured connection
Slow wifi
Virus detected don't use
C:virus.exe
Malware found
Hidden network
Virus network
Stealing information
Hacking on progress
Your device may cause harm
Use it on your own risk
Connect for identity theft
Pay me now
Get your own internet
My speed is better than you
You are all noobs
Hide yo kids hide yo wifi
Pretty fly for a Wi-Fi
(.) (.) Boobies
Tell my wifi love her
Bill Wi the science Fi
Drop it like its Hotspot
My own damn internet
Social account hacker
2 girls 1 Router
My neighbors Suck
Bad error 313 disconnected
Your device will blast
Will you marry me?
Bring 2 beers and get the password
WTF W-Fi
Click here to spread Virus
All your Bandwidth belongs to us
Why don't you get W-Fi
Bitch please
Wireless Gangbang
Infecting virus
Talk less work more
Come and clean my house
Don't snoop
I'm staring at you
Pay $5 per hour
Don't use my WiFi
Le le Bhikhari
Conclusion
These were some best funny Wi-Fi names. If you want to surprise your neighbors and friends then use one of these cool funny Wi-Fi names as your Wi-Fi device name.
If you have your own funny Wi-Fi names or you see any other Wi-Fi name then share with us and we'll update the list with your own funny Wi-Fi names.
Also let us know which wifi name amaze you most in your comment.