Those who have Xiaomi Mi3, I have a good news for them. Ivan, the popular developer at Xiaomi has released a working Android 5.0 AOSP ROM for XiaomiMi 3. The ROM is based on the latest Android 5.0 Lollipop OS but it is not a final version and has some minor bugs.
The ROM by Ivan comes with minimal apps, thus offering users a Nexus like pure Android experience on XiaomiMi 3. It supports English language and seems pretty stable. Below is a step by step guide, which will show you How To Install Android 5.0 Lollipop AOSP ROM on Mi3.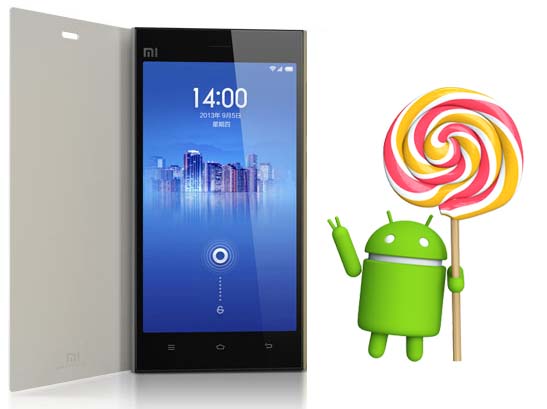 How to install Xiaomi PC Suite/Phone Manager In English
What is Android 5.0 Lollipop AOSP ROM?
Probably, this question is being asked by many people out there, that what actually AOSP ROM means? Let me clarify this too.
AOSP stands for "Android Open Source Project". Basically, AOSP refers to Google's Android operating system and AOSP ROMs refer to custom ROMs that are built from the original Android source code. Now if you will Google it, you will find such similar results like "AOSP" ROMs versus TouchWiz, Sense, MotoBlur, etc…Etc…
To understand it more deeply, just think like this. AOSP ROMs will come with all the features that Google made available to their original Android operating system. On the other hand, TouchWiz/Sense/MotoBlur ROMs have additional "branded" features added such as Samsung's Smart Stay, Smart Rotation, Multi-window, etc.
So now I hope you are now aware what AOSP ROM means, and from what it is compared and their differences. Let's move on to our step by step guide to install android 5.0 lollipop AOSP ROM on Xiaomi Mi3.
Here is How to Root Unroot Xiaomi Redmi Note 
Steps To Install Android 5.0 Lollipop AOSP ROM on Mi3
NOTE:Doing this won't delete your media data such as files, photos, music, etc. All other settings, apps and data will be deleted. So I will recommended you to backup your important data first.
Step 1.First of all you have to download and install CWM recovery 6.0.5.1 (R11) by furniel and donbot (For Mi 3W and Mi4W). You can download it here too, it is mirror download link- DOWNLOAD.
If you are not aware of the CWM and don't know how to install it, here is the way.
Open the updater app.
Press menu button.
Click "select update package".
Select the 'CWM_recovery_r11_cancro.zip' and install it.
 Step 2.It's time to download some more files which are required to do the task. Below are the files with their download links.
After downloading you have to transfer both of the above files to the root directory (/sdcard) of your phone.
Step 3.Time to BOOM – Flashing Android 5.0 Custom ROM on Mi 3 using CWM Recovery
Begin with rebooting your phone into CWM Recovery.
To do this navigate to Tools > Updater > press Menu key and select 'Reboot to Recovery mode'
One important information – Before proceeding to next step, once navigate to 'advanced' and find out that 'active system' is 1. If active system is 2 then change it to system 1. To do this you can use the defined touch controls at bottom of CWM screen.
Now select 'Wipe data/ factory reset' and confirm to wipe. (Note that wiping the data may take some time, it depends on the storage of the phone).
After the process is completed, select 'Wipe cache partition' and confirm it by using navigation keys.
Now navigate to advanced and 'wipe dalvik cache'.
After the above steps, you will see some more options appearing on your screen. Simply go to 'mounts and storage' and select 'format /system1 (active)' option to format it.
After performing above steps successfully you have to go back and select 'Install zip' from the menu. Select 'choose zip from /sdcard', then 0/ and then choose the 'aosp-cancro-4.12.8-kQ1vi7iZhK-5.0.zip' file which you have downloaded before. Then install it to System 1.
Now AOSP ROM is successfully installed on your phone. To Install Google Apps for Android 5.0, go back and do same as you have done in previous step, but this time make sure you have selected 'gapps-lp-20141109-signed.zip' file. Install it to system 1 as well.
After successful operation go back and make sure to Wipe data/ factory reset and Wipe cache again.
Now restart your phone by selecting 'reboot system now' to ensure everything working fine. (If your phone asks to fix root permission and to root the device. please choose NO.)
Congratulations, you have now successfully installed Android 5.0 Lollipop AOSP ROM on Mi3.
Root Redmi 1s 
Conclusion
So this is it, you have reached the end of How To Install Android 5.0 Lollipop AOSP ROM on Mi3guide. I hope you have followed each step mentioned above and have successfully installed AOSP ROM on your Xiaomi Mi3. If you are not successful in it, don't bother, we are always here to help you. Just comment below, and we will get back to you as soon as possible.