Microsoft .Net Framework is a very Important Component for all Microsoft Windows Operating System it is already per-Installed in the all latest version of Microsoft Windows like Windows 7 and Windows 8 and it is often needed by most of the applications, games and Software's and.
But you might have faced problems while installing the applications that requires .Net Framework 3.5 to run in Windows 8. Nowadays almost all software's requires Microsoft .NET Framework 3.5. By default Windows 8 comes with .Net Framework 4.5 that doesn't include .Net Framework 3.5 (includes .NET 2.0 and 3.o).
So whenever you want to open an app on windows8 that requires .NET Framework 3.5 then you will see the following message. Download Microsoft Net Framework offline installer all version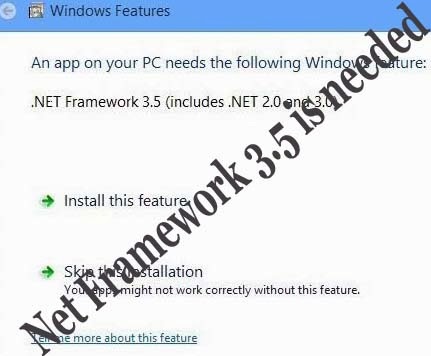 If you choose the 2nd Option then application you were installing will not run because missing of .net Framework 3.5 files and if you choose the 1st Option you will need to have an Internet Connection to download .Net Framework 3.5 Setup Files which could take a lot of time depends on your
Internet Speed
.
But there is a way to install Microsoft .Net Framework 3.5 without internet Connection. For this you need to Have Windows 8 ISO File or DVD. Because Windows 8 ISO File or DVD contain Microsoft .Net Framework 3.5 but it is not install during windows installation. So here in this Post we are going to tell you a Simple way to install Microsoft .Net Framework 3.5 offline from windows8 ISO or DVD.
Read :
Steps to install .NET Framework 3.5 Offline on windows 8:
First of all Insert your Windows 8 Installation Disk in your PC or mount your Windows 8 ISO image in virtual drives through Daemon tool.
Now go to Run and type CMD and Right click on CMD and then select Run as administrator.
Now Enter the following Command in CMD or just copy the below command and paste it in CMD.
 Dism /online /enable-feature /featurename:NetFx3 /All   /Source:G:sourcessxs /LimitAccess.
G is drive letter, is the Location where you have mounted the ISO File or Inserted the DVD. You can Change it according to your own drive letter.
It will take about 2-3 minutes to perform complete Installation and after the Installation is finished it will show you The Operation Completed Successfully.
 Check: Blue Screen Error of Death on Windows 7 and Windows 8: Error Fix
That's all and now you can run your applications which requires .Net Framework 3.5 on windows 8. But keep in mind that if you've installed windows 8 32 bit then you can .Net Framework 3.5 on windows 8 only from 32 bit DVD or ISO image file not from 64 Bit version.
Hope you like this, if you find this article helpful then share with your friends.