Now day's internet becomes most essential things for all of us and it makes our life easy and fun. But internet has some good side and has some bad side and these bad things are more dangerous for children. In this modern era all most every children use internet but most of the time they are prone to bad things.
In this situation you need to block some unwanted web site or specific site on your computer to protect your children from potentially bad things on the internet or from abuse of the internet. So today in this article we are going to discuss about how to block a website on your computer which is harm full for your family or child.
If you block a website on your PC then your children cannot access that website on your PC. So let's start the procedure..
 10 ways to Access Blocked Website 

Steps to block a website on your computer
Here we have listed two methods which will helps you to block a website on your PC. So follow the methods carefully. Here is Top 100+ Best Free Proxy Sites list 2015
Editing Windows Hosts Files
By editing your windows operating system's hosts file you can block a website on your computer. To do that follows the instruction.
First of all open Run. Now copy the below code and paste it on Run and then hit Enter. Notepad %windir%system32driversetchosts . Alternatively navigate the path c:windowssystem32driversetc and now open etc folder and then open hosts file with Notepad.
After opening hosts files in notepad go to the bottom of the notepad and here you will see something like 127.0.0.1 localhosts.
Under 127.0.0.1 localhosts you need to enter your desired website which you want to block on your computer. For example
127.0.0.1 localhost
127.0.0.2 Facebook.com
127.0.0.3 Tricksforums.com
127.0.0.4 yourdomin.com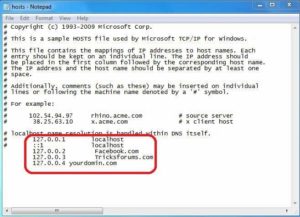 Now save the file and exit it. After saving reconnect your internet to take effect in changes. When anyone tries to open blocked website on your computer they will get problem loading page error.

Note: During saving the hosts file if you get this error like below image then you need to change permission.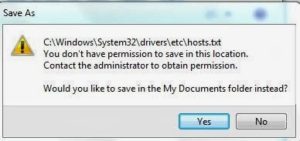 When this error is appear then select NO. Now perform a Right click on hosts file and select Properties.
Now switch to security tab and hit on edit. Now select user and check the box Full control and click on Apply.
Now you can save the hosts file by doing above steps.
Open DNS
Open DNS is web content filtering and security service and with the help of Open DNS you can block adult content or any other harmful website on your PC. When anyone try to access any harmful site on your PC then Open DNS automatically detects it and blocks it. Now follow the below steps to configure Open DNS to prevent access of unwanted and harmful websites on your Computer.
Go to Control Panel then Network and Internet and then Network and sharing center.
Now click on Change adapter Settings and select your active connection. Now perform a Right Click on that connection and select Properties.
Now select Internet Protocol Version 4(TCP/IPv4) and then hit on Properties.
Now select the option Use the following DNS server address and enter the following DNS address 208.67.222.123 and 208.67.220.123.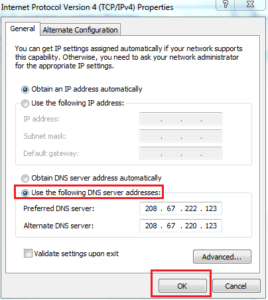 Now save the settings and reconnect the internet and try to open harmful website to check weather it works or not.
Conclusion
There are many software's are available which can able to block website on your Computer. But the above two methods are simple and anyone can do it and in this method you don't need to install any kind of software or tools.
If this article is helpful for you then don't forget to share with your friends.