Now a days online shopping is in trend. Most of the people out there prefer to purchase everything online as online shopping sites offers their products at huge discounts and with some exciting offers too. By shopping online you can save your time and hell lot of money too.
There are plenty of e-commerce sites out there Amazon, Flipkart, SnapDeal etc and they are increasing day by day.Whenever someone want to purchase something online, he simply visits a particular or his favorite online shopping site, choose the product which he want and buy it.

But as we said there are many big e-commerce sites available so its possible to have different price and discount for different site on different product. Suppose if you want to buy a smartphone under 15000 or a laptop under 4000 from Amazon which has 10% discount but its possible that  the same product has 15% discount on flipkart or other eCommerce sites. So its always better if you compare the price of your product before purchasing. But the question is where to compare the price of these product?  Don't worry we've got answer for you, here in this post we are going going to show you some of the best sites to compare prices of online stores, so that you can get the cheapest price of that particular product .
Top 5 Best Websites To Compare Mobiles Laptops Price
MySmartPrice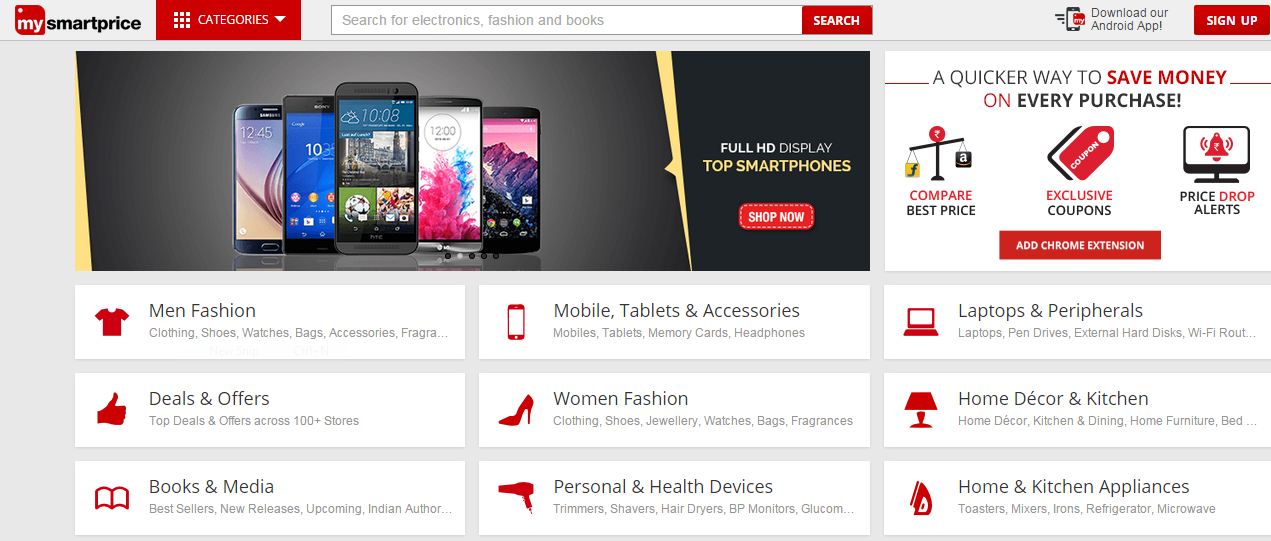 MySmartPrice is one of the best site to compare prices of products of different categories. My Smart Price has almost prices of all the mobile handsets and laptops, they are placed according to their manufacturer, and this makes the website user friendly. A user can search his product without any difficulty. There are 2 ways in which you can get product's cheapest price with it. You can either search for products by browsing categories from home page or you can search for a particular product using the search box.This great online shopping site also have a separate page for its amazing deals in which it will show you the latest deals that are available on the products.
CompareRaja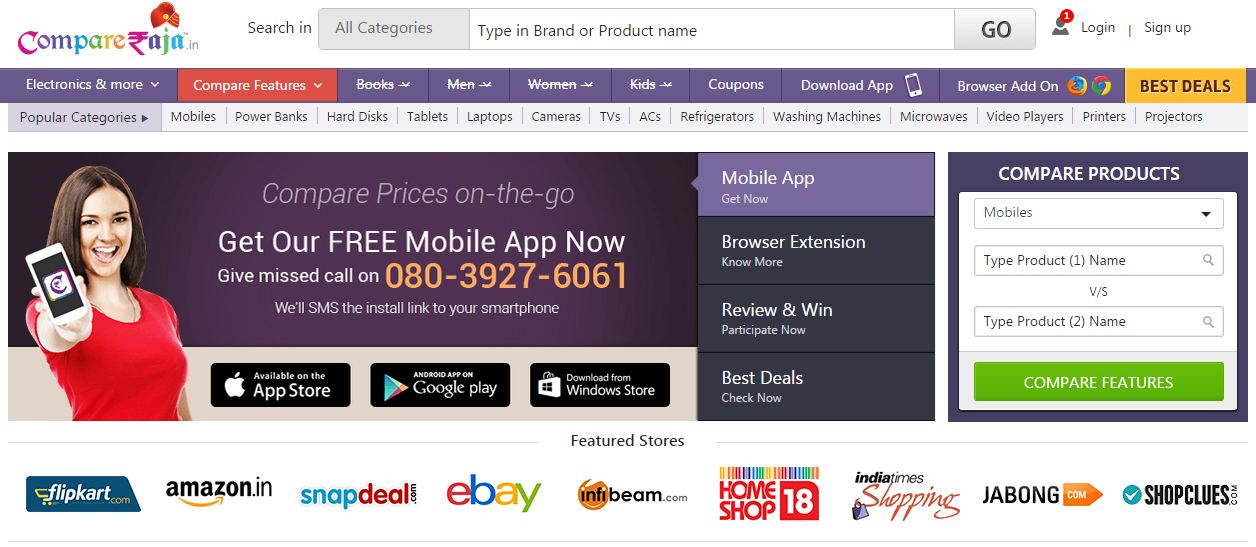 As the name suggests, it is a price comparison site which is 2nd on my list. When it comes to user interface, CompareRaja beats every other site of this list. Compare Raja also gives you a service in which you can leave your email id and set your target price of the product and once your selected product reaches the target price they will immediately send you an e-mail and then you can buy that product according to your preferences. They always have some running on their site, you can participate in them and get some additional savings and freebies.
MakkhiChoose Extension/Add-ons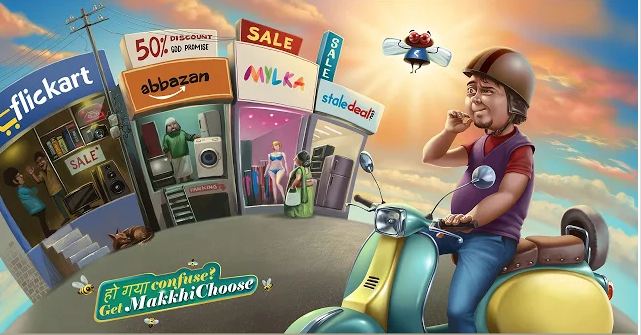 MakkhiChoose is a plugin and not an online shopping website. It is a plugin which can be installed very easily on both Google Chrome and Mozilla Firefox. This plugin alerts you on a shopping page on a website along with others lowest price of that product available on the web. It is a very useful and helpful plugin, that's why I have included in in this list. If you are an avid online shopper like me and if you do lot of online shopping then this plugin is for you. Currently this plugin is only available and useful for Indian shoppers and the plugin is pulling off the prices from 8 different online shopping sites in India and the sites are homeshop18, Flipkart, snapdeal.com, Naaptol,IndiaPlaza etc.
Download MakkhiChoose Google Chrome Plugin
Download MakkhiChoose Mozilla Firefox Plugin
SmartPrix

SmartPrix is another great website to compare prices of mobile phones. You can compare up to 5 mobiles at a time. The user interface of this website is good too, and you will not face any kind of problem while using it. Whenever you compare two or more mobiles on SmartPrix, it ranks them in numbers and shows you scores of each mobile handset so that you can get a better result. If you are about to buy a mobile phone and you are confused between two devices, then I will recommend you to try this one time for sure.
BuyHatke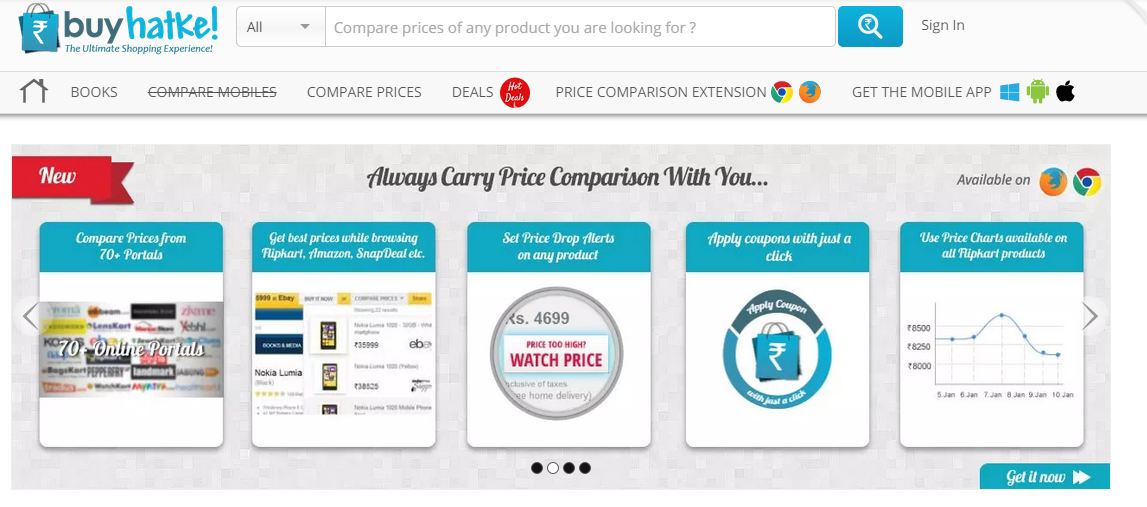 Buyhatke.com is the branch of the company named Bidon Services Pvt. Ltd. This website offers its services to Indian customers only. Buyhatke.com is a search engine to get best prices of products, you can also get offers and deals when you register on it.
This site can also be used without registering but to get awesome offers you will have to register on it.  Buyhatke.com is one of the best online shopping site which will show you your search result in quick time along with the price and retailer name and it also gives you the option to search your product according to your budget.
Conclusion
So this is it, you have reached the end now. I hope you have liked the post and got what you were searching for. Though there are many more sites like these available over the internet, but according to me these are the best.
If you know any other great site to compare prices of products online, then share it with us via comments below. Do share this article with your friends and let them know about it.