If you are using iOS devices and OS like iPhone and iTunes, then you might know about the fact that they don't support video files like MKV, MPEG, or AVI. Yes, that's true, you can't open these file types with iTunes or iPhone.
The default iOS Video app won't be able to process the video file if it is in these file formats. Though there are many video player apps for iPhone available on iTunes, but there are some people out there who wants to know about how to watch MKV or AVI video on iPhone or other iOS devices. .MKV and .AVI are two widely used video file types which can give you a serious headache if you want to move them to your iPhone using iTunes.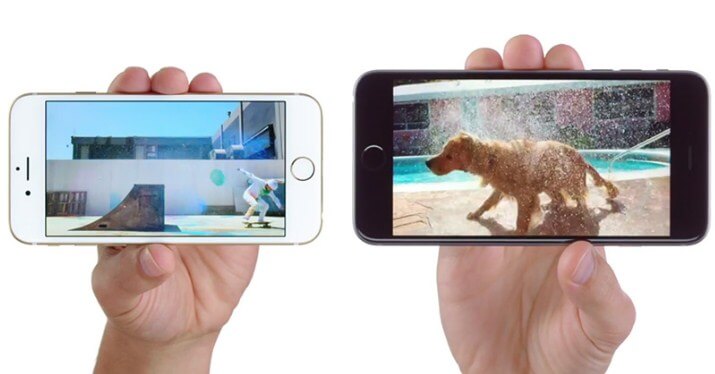 iPhones are being used all over the world, and it doesn't support video formats like .avi and .mkv, which is quite disappointing. But don't worry, there are various solutions available to this problem.
We have seen so many people on the internet asking for how to add .avi videos to iPhone and iTunes, or how to add .mkv videos to iPhone/iTunes, so we decided to post complete article on this topic.
By reading this article to the end, you will be able to play AVI videos or movies on iPhone or iPad, so just follow this step-by-step tutorial on how to watch AVI/MKV videos or movies on iPhone or iPad.
So here in this post we are going to tell you about how to add .avi .mkv videos to iTunes/iPhone easily. By following below mentioned steps, you will also be able to solve .mkv video iTunes import problem.
How To Add AVI/MKV Videos To iPhone/iTunes
So, if you are the one who uses iTunes and iOS device like iPhone, iPad, iPod, then you might be searching for ways to add avi and mkv files to iPhone via iTunes. Here are some ways to do that.
How To Watch AVI Files On iPhone and iPad
Below we are going to show working method to watch AVI videos on iPhone and other iOS devices without using avi to iTunes video converter for pc or avi to iTunes video converter for mac. Below we will be showing you how to move avi files to iPhone without iTunes.
First of all you will have to download VLC for iOS from iTunes Store. VLC for iPhone and iPad be can easily downloaded from iTunes store, as it is available for free.
Once downloaded, install VLC for iOS on your iOS device, and open it. When you will open it, you will need to click on the pylon icon in the top-left corner of the screen.
Now tap on Wi-Fi Upload and the toggle switch will turn orange.
Now you will need a MAC PC or Windows PC to move files to iPhone. On your Mac or PC, type the network shown into the address bar of your web browser. Example: 192.168.2.19 (in image below).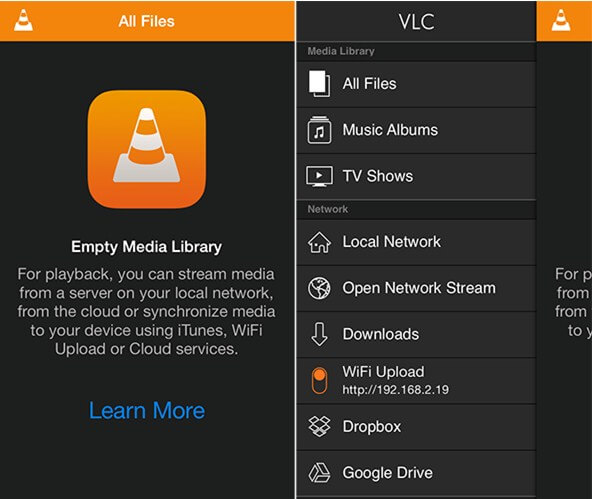 Now you can either drag or drop avi file to move it to iOS device, or you can click on the + sign on top right corner, and then select the AVI file to open.

Once you have selected the correct file, then it will be uploaded to your iPhone or iPad over Wi-Fi.
If you have done everything correctly, and followed every step, then we are pretty sure that the AVI file you are trying to watch in iPhone/iPad will appear in Media Library in the VLC for iOS app. If you would prefer to upload files using a different method, tap on the Learn More link in VLC for iOS for instructions on using iTunes file sync or uploading media from Google Drive or Dropbox.
Video Player To Watch AVI/MKV Videos On iPhone/iPad
Now if you are not able to move avimkv videos to iOS devices, then you can use video players to play avi or mkv files on iPhone/iPad and other iOS devices. There are tons of great .AVI/.MKV video player for iPhone available on iTunes Store, and if you want to know about the best one, then you can read about it below.
Infuse – Play MKV/AVI Videos On iPhone/iPad
Infuse is one of the best iOS video player app available right now. You can watch avi and mkv videos on iPhone and iPad easily with this video player app for iOS devices. Another good thing about Infuse video player is that you can also stream videos from PC, MAC, NAS and Wi-Fi using it. This avi video player for iPhone/iPad is available in more than 15 languages, so you won't face any problem with it.
Download Infuse Video Player For iPhone/iPad
Ways To Convert AVI & MKV Files To Add Videos To iTunes
By following about method, you will be able to add .mkv .avi videos to iPhone/iTunes, but if you don't want to follow those steps or you want an alternate way to watch .avi .mkv videos on iPhone, then you can convert them and then they can be added to iTunes easily. To convert avi and mkv files to add videos to iTunes, follow steps mentioned below:
First of all, you will have to open the folder where your .mkv file is located.
Now right click on the .mkv file and select rename the folder.
Now simply remove the ".mkv" from the file and replace it by ".mp4" and press the enter to save.
That's it. You will now be able to transfer .avi .mkv files to iPhone/iTunes.You can say this method as avi to iTunes converter free.In most of the cases this simple trick works like charm, but if you are not able to convert those files, then you can try video converting software like:
Also Read: Fix iPhone Stuck on Apple Logo
Conclusion
Converting .avi/.mkv videos for iPhone and iTunes support can be easily done if you will follow methods mentioned above. If you want, then you can download avi/mkv to iTunes video converter for pc.
MKV and AVI are one of the most used video file types in the world, whenever you will download a video from the internet, most probably it will come with .avi or .mkv extension. You just don't need an mkv to iTunes converter to add mkv videos to iTunes. Though there are many more video player apps for iPhone/iPad/iPod available over the iTunes store, but we will still recommend you to try ways mentioned above, and check whether they are working for you too or not. If you know about any other way to add .avi .mkv videos to iTunes/iPhone, then do let us know about it.