When looking for a job in professional sectors Curriculum Vitae (CV) is the most important and often underestimated piece of paper. After your cover letter, the CV or resume is the first document a recruiter sees, thus this reflects your first impression here are the best websites to create cv.
It is very much necessary that an aspirant spend a good amount of time compiling his/her resume. To keep them interested in you, every relevant detail must be mentioned in it. CV's makes hiring process much easier and fast for any company during placements.
So curriculum vitae are the only documents that they will analyse. If and only interested in the applicant, they will proceed further or applicant is decline at the spot. So it becomes the highest priority to create a CV that showcase your achievements, experiences, strengths, be easy to scan, and yet looks unique and interesting.
Most of the time a person will use a predefined template from his/her friend and compile the CV. This might be quite an easy way, but it does not make you stand out of the crowd. Best Sites To learn Programming Online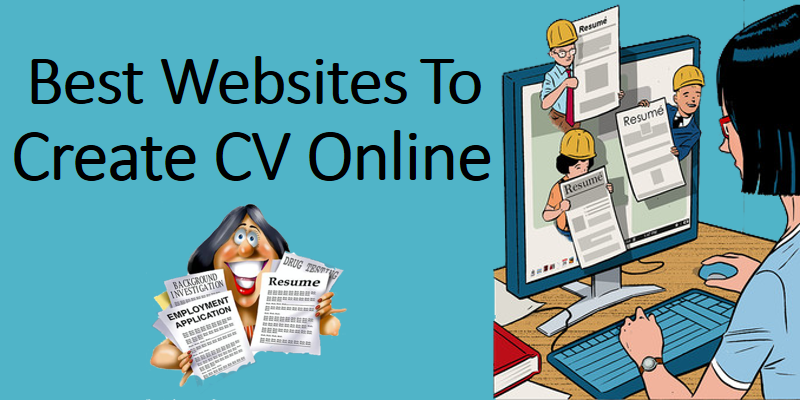 When migrating between firms it is essential for you to documents every possible experience in a professional looking CV. But if you are a fresher, you have a least chances to catch the interest of a potential employer, unless you are a whiz. For those of you who don't know the difference between a CV and a resume?
The difference lies in the length of the document. A resume is a one or at most two page brief summaries of your education, skills, achievements and experiences. Whereas a CV must include much more details and is generally used when applying for jobs and internships in academics and research. Best eBook Download Sites 
Are you looking for a job or internship and having difficulty in compiling a brief, yet compact and beautiful CV. Here are some tested, great and easy to use websites that will compile your information into a well-designed professional CV for FREE in few clicks.
Top and Best Websites To Create CV Online For Free
CV Maker
CV Maker is the by far the best Online Resume/CV Builder available for free. I used it a while ago, and have been recommending to everyone since then. It has an easy to use, elegant and powerful user interface. The information is can be collected in two ways.
First way is to complete simple and small forms provided in various categories. Another fast and easy way is by connecting Facebook and LinkedIn accounts, where CV Maker can sync for information. After the information is collected you can modify them and preview the end results.
After following above steps it prepare professional looking CV instantly. It also has few free resume templates to use. Finally CV maker also allows you to download your new CV in your preferred language and in formats like Word/PDF /HTML.
Slash CV
Slash CV is a powerful, yet unique service that allows you to create a smart and clutter free resume with ease. The most important features of Slash CV are that you can share your resume online using personal links on their website after logging in.
It also support downloading in PDF formats with quite beautiful templates to choose from. One interesting feature is that you can save your resume directly to your Drop box folder in few clicks.
The procedure is pretty much simple, just type and save a copy like you would while using a Word document. It is quite customizable too; you can edit headings, re-order them and also add new ones.
VisualCV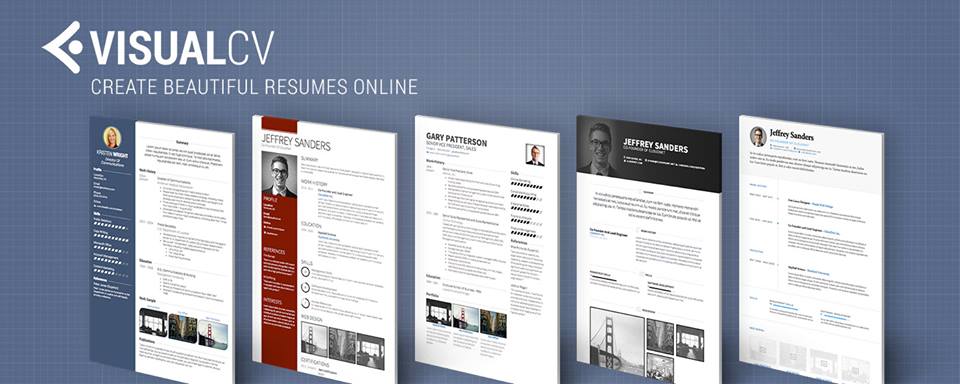 VisualCV is very unique in other platforms mentioned in this post. It is info graphic resume/CV building site i.e. it generates a CV with graphics in them, hence you can get rid of that boring text only resume.
VisualCV is an online, multimedia resume where you can add a professional picture of you and allows you to stand out from the crowd. Nowadays everything is online and so are interviews are also happening online.
So it makes much more sense to create and provide a visually effective Resume with Photos, Videos, Graphs, and Links. You can easily edit you profile, education, work experiences and all other basic things.
You can also convert your current resume by uploading to the site and selecting templates. Another way is by allowing VisualCV to get information from your LinkedIn profile and your new CV will be generated within minutes.
Resumonk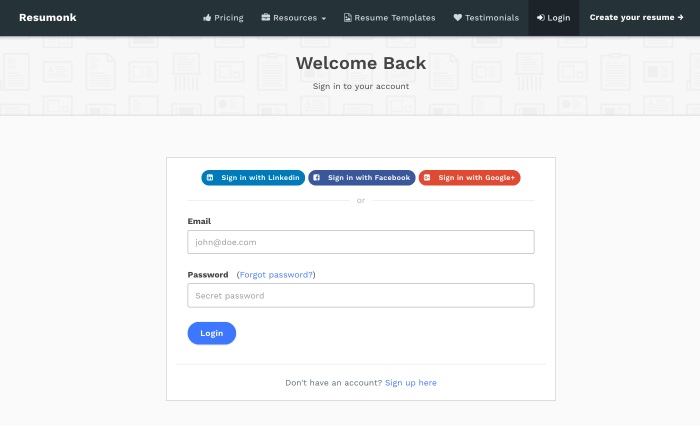 Resumonk is an easy to use online resume builder that saves you time by helping you create professional and beautiful resumes/CV online. It is very smart in handling the job of formatting and converting the information in CV.
You can download the result in PDF format, therefore you are only needed to provide some info and in couple of minutes you have a ready to use CV. You can also share your CV online as Resumonk generates a unique URL for you.
Write Your resume online
Write your Resume Online website may look like a generic one, but it provides more advanced features to create resume than any other. There are many styles in which you can start creating your resume. It creates resumes online by simple to follow resume wizard that takes you step by step to write your resume.
It is also free to use with easy editing system for dynamic modification and updates. The wizards are easy to use resume writer and compile your resume online getting information through fill in the blanks and simple questions.
It also has many choices to customize your resume that may suit your needs. If in future, you get a new job or training you can always come back at any time, load your resume back into server, and make changes.
Online CV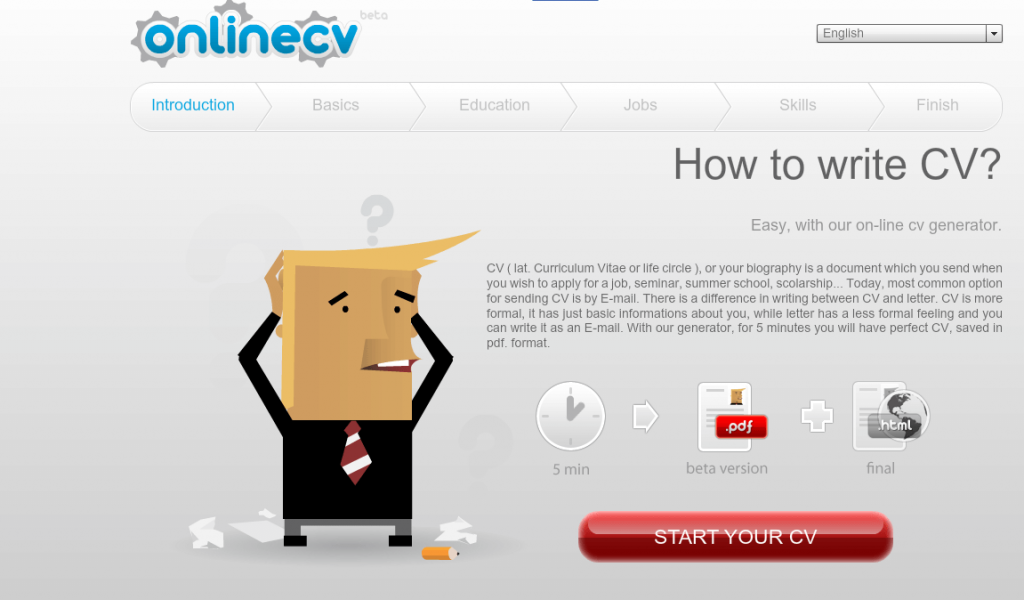 Online CV is another great site to create cv online for free. With this website you can generate your CV or resume in very easy manner. This site has all the section that you need to create a perfect CV.
To create your CV on this site you don't need to sign up or register yourself. Online CV lets you to attach your picture with CV which makes your CV or Resume Perfect. After creating your CV this site provide PDF of your CV and you can use it wherever you want
This concludes our review of easy to use, but powerful websites that allows user to create professional looking, easy to read and beautiful resumes. Make sure that before walking in any placement drive that your CV have the attractiveness for the recruiter and that leads an interests in him;  followed up by you getting hired.